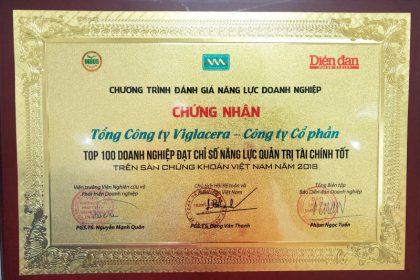 Directed by Vietnam Chamber of Commerce and Industry (VCCI), the Business Forum Newspaper in collaboration with the Enterprise Research and Development Institue, Vietnam Association of Accountants and Auditors (VAA) has announced the Top 100 enterprises in Vietnam achieved the best financial management index in the Vietnamese stock market 2018.
The program is deployed annually on the basis of survey and assessment of 21 financial criterias related to all aspects of production and business activities of enterprises listed on Vietnam stock market in 32 economic sectors, through the annual prospectus with a comprehensive assessment method, ensuring accurate and objective results.
Having participated in the stock market since July 2014, Viglacera Corporation – JSC has always been one of the enterprises which strictly implemented regulations, management process and periodic financial statements of HNX. The implementation of commitments with investors through the General Meeting of Shareholders as well as the results of business activities, production and financial performance indicators always comply with the principles of publicity, transparency and ensure maximum benefits of investors.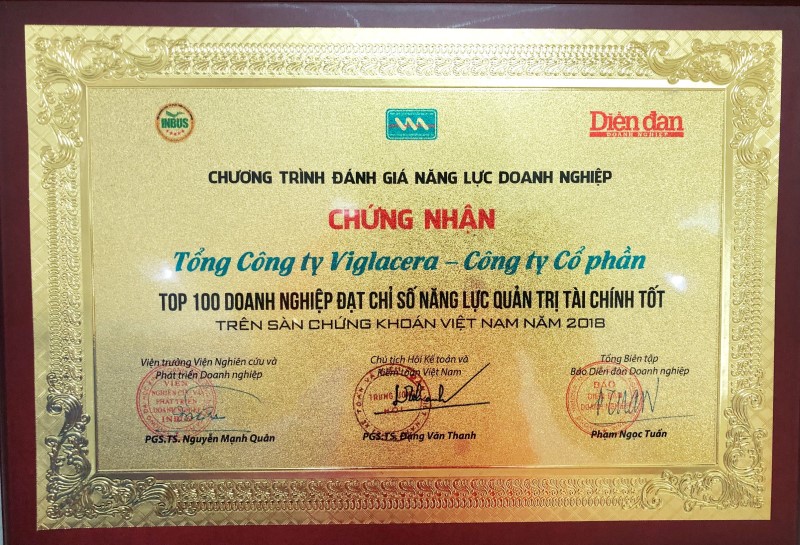 On the basis of detailed analysis and evaluation of financial indicators as well as efficiency in production and business activities over the past time, Viglacera Corporation – JSC has been ranked by the Business Performance Assessment programme in the Top 100 enterprises in Vietnam achieved the best financial management index in the Vietnamese stock market 2018 . This is important for Viglacera to understand its "health" situation, thereby overcome limit and deploy development solutions in the next stage. At the same time, through the results of assessing the capacity of enterprises, partners, credit institutions, investors, especially shareholders will also have a reliable database to make reasonable and effective investment decisions.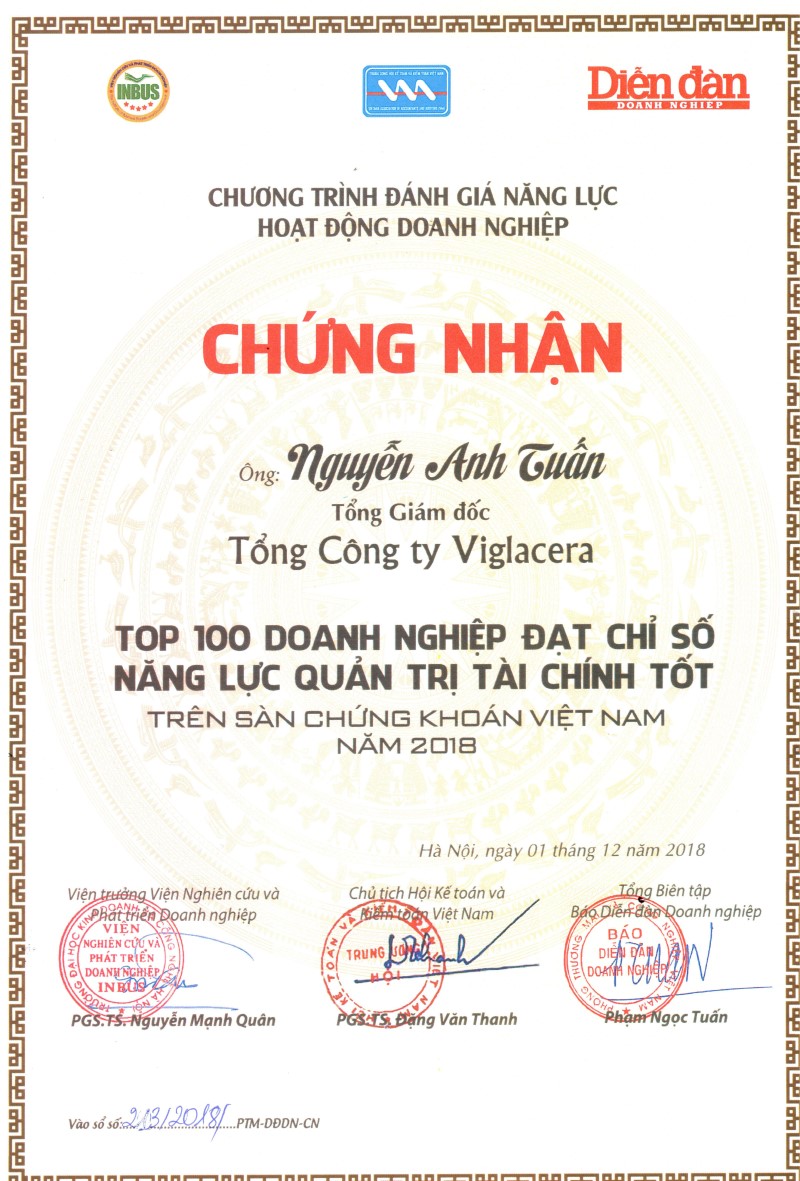 According to the plan, VGC will switch to operate on HOSE in early 2019 according to Viglacera's commitment to investors. Besides, the plan to divest 53% of the State's capital will also be conducted before the next shareholders' meeting. Viglacera Corporation has been actively taking the initiative in corporate governance from production management to finance and accounting in order to develop the business in a sustainable manner and be ready for the transformation of the operational model after divesting all State capital in 2019.
This is an annual survey program to assess more than 5,000 businesses listed on 3 Vietnamese stock exchanges: UPCOM, HNX and HOSE. On the basis of a comprehensive assessment of criteria of financial capacity, business performance and the implementation of periodic reporting processes prescribed by the securities exchanges, the organizing committee selects the TOP enterprises with Best financial management capacity to honor and award certificates. The fact that Viglacera stands in the TOP 100 in 5,000 businesses is not only a confirmation of the prestige and position of the Corporation on Vietnam's financial market in the current period, but also a basis for investors to continue trust in VGC in the future.