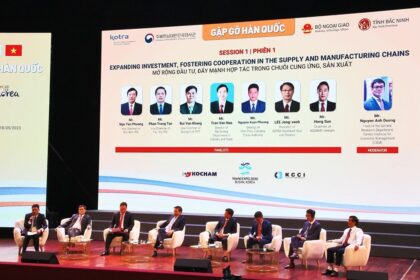 Cities and provinces in the Northern Key Economic Region have been identified as the political, economic, cultural, scientific, and technical center of Vietnam as well as the main area of integration and exchange for the country with the region and the world, Permanent Deputy Minister of Foreign Affairs Nguyen Minh Vu told the Meet Korea 2023 event on May 18 in northern Bac Ninh province.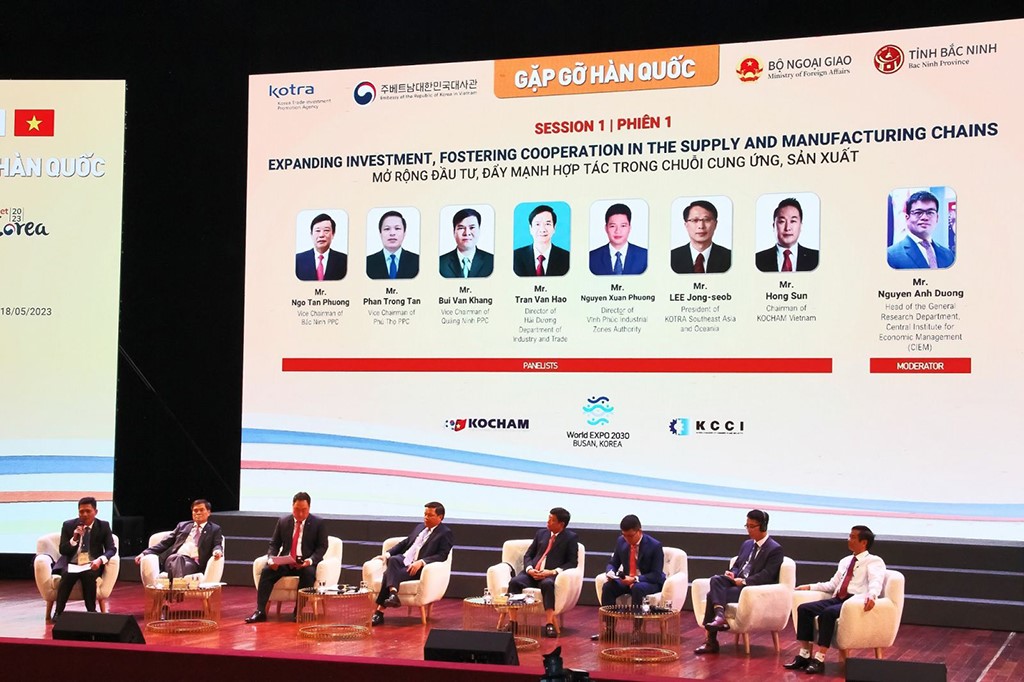 As a bright spot in terms of investment attraction and industrial development in Vietnam, Bac Ninh is an ideal meeting point for Vietnamese localities, enterprises, agencies and South Korean enterprises to exchange experience and open up new cooperative opportunities.
According to the Permanent Deputy Minister, Vietnam welcomes South Korean enterprisé to expand their investment scale in the country, especially in the fields of high technology, science and technology, innovation, the green economy, the digital economy, digital transformation, clean energy, smart cities, and eco-cities.
Speaking at the event, H.E. Oh Young-ju, the RoK's Ambassador Extraordinary and Plenipotentiary to Vietnam, emphasized two special meanings for the Meet Korea 2023 event.
First of all, many relevant companies and agencies from both countries are present despite the effects of the global economic downturn. This is a positive point in economic cooperation between Vietnam and the Republic of Korea, even in the context of it being difficult for the two countries to reach the target for bilateral trade turnover of $100 billion this year due to the global economic slowdown.
Second of all, Meet Korea 2023 is the first event organized after the two countries upgraded their relationship to a comprehensive strategic partnership in December last year.
Also within the framework of the program "Meet Korea in the Northern region in 2023", on the morning of May 18, Vice Chairman of Bac Ninh Provincial People's Committee – Ngo Tan Phuong met and worked with a delegation of Korean enterprises led by Mr. Kim Hyong Mo, Chief Representative of the Korean Chamber of Commerce and Industry in Vietnam (KCCI), who led the delegation to visit and work at Yen Phong industrial park, Yen Phong district, Bac Ninh province.
Through the meeting, the Korean economic world knew Bac Ninh not only because it is the destination of many Korean enterprises, including Samsung, but also was impressed by the provincial leaders who always accompany, care, support and create all favorable conditions for enterprises to operate and develop. Thereby, KCCI will continue to propagate, promote and introduce the image of Bac Ninh and its industrial parks to Korean investors for research and investment.
Yen Phong Industrial Park, developed by Viglacera Corporation – a prestigious developer with more than 22 years of experience in the field of industrial zones, is considered a comprehensively developed industrial park for owning synchronous and modern technical infrastructure system and social infrastructure systems.
Yen Phong Industrial Park consists of two phases: phase 1 (344ha) is 100% filled and expansion phase (314ha). Currently, the industrial park has a synchronous and modern technical infrastructure system, including a power station, a nitrogen gas station, a water supply station, and a wastewater treatment station.
Not only developing synchronous technical infrastructure, but Viglacera also cares about sustainable development and social security when deciding to invest and build Yen Phong urban area to meet the need to live near the industrial park of workers.
Housing project for experts and workers located right in Yen Phong Industrial Park with a scale of 20ha, with adjacent apartments, condominiums and utilities such as restaurants, supermarkets, .. will meet the accommodation demands for nearly 6000 professionals and workers.
In particular, a complex of multi-functional works – Cultural and social housing area including Primary school, Kindergarten, Culture house, Health station and green park, exercise and sports area ,.. is invested and built on a land of 17,000m2, with the goal of best meeting the needs of workers' accommodation, working, living and traveling, indirectly supporting costs and creating abundant human resources for enterprises operating in Viglacera's IPs.
With the above advantages, Yen Phong Industrial Park has become the largest FDI attraction in the North with more than 12 billion USD, contributing to bringing Bac Ninh to the Top 10 in the country for many consecutive years in terms of attracting FDI. Up to now, there have been 100 investors operating in the industrial park, including big brands such as Samsung, Orion, Intops, Ottogi, LS Electric, KCC, Mobase, Deli, Lock & Lock…
Source: https://diendandoanhnghiep.vn