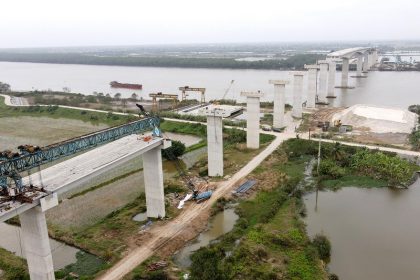 HAI PHONG – The coastal road project in the Hai Phong – Thai Binh section is scheduled to open to traffic in early 2021, but only 35% of the volume has been completed so far.
The investment project to build a coastal road covering Hai Phong – Thai Binh section will be 29.7 km long, with 4 motorized lanes, and 2 non-motorized lanes, with a total investment of more than 2,460 billion VND in the form of Building –Operation – Transfer (BOT). In which, the section through Hai Phong city is 20.7 km long and the section through Thai Thuy district (Thai Binh) is 9 km long.
The project was started in May 2017, according to the plan it was expected to open to traffic in early 2021. However, the project has only completed 35.4% of the construction and installation (equivalent to VND 872 billion of the contract value).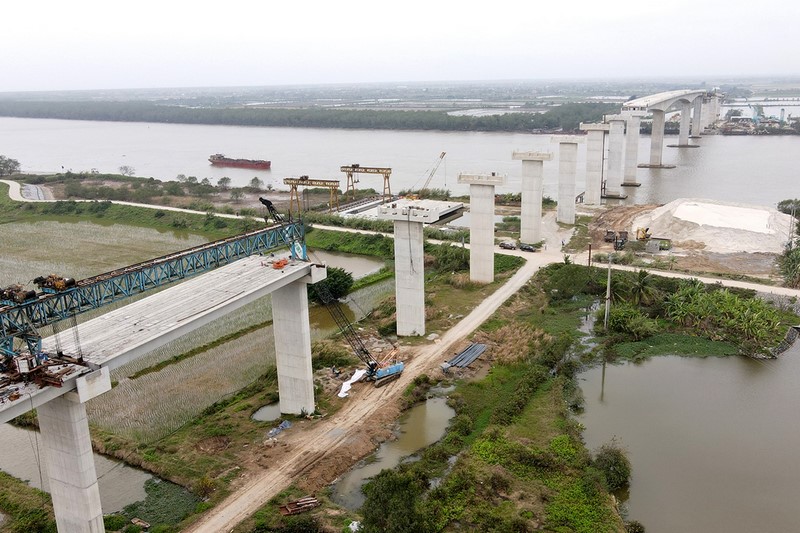 The bridge over the Van Uc river with a length of nearly 2km belongs to the Hai Phong – Thai Binh coastal road project, is under construction on the side of Kien Thuy district, while the other side of Tien Lang district has not been constructed due to problems of site clearance and investors 'capital shortage. Photo: Giang Chinh
Mr. Huynh Van Hieu, Project Manager of Hai Phong Coastal Road Investment Co., Ltd., explained that it was difficult for businesses to access loans from banks and was facing problems in site clearance. As many as 1,523 households and organizations whose properties are in the area of land have basically agreed to receive compensation. However, some households have not received the compensation, even some have but they still want to make a petition about the compensation price and the origin of the land.
For example, 4 aquaculture households in Tien Lang district located in the clearance area for construction of the Van Uc river bridge have temporarily received more than VND 2.7 billion since 2019, but they have not yet handed over the site to the contractor for construction, even they are still claiming.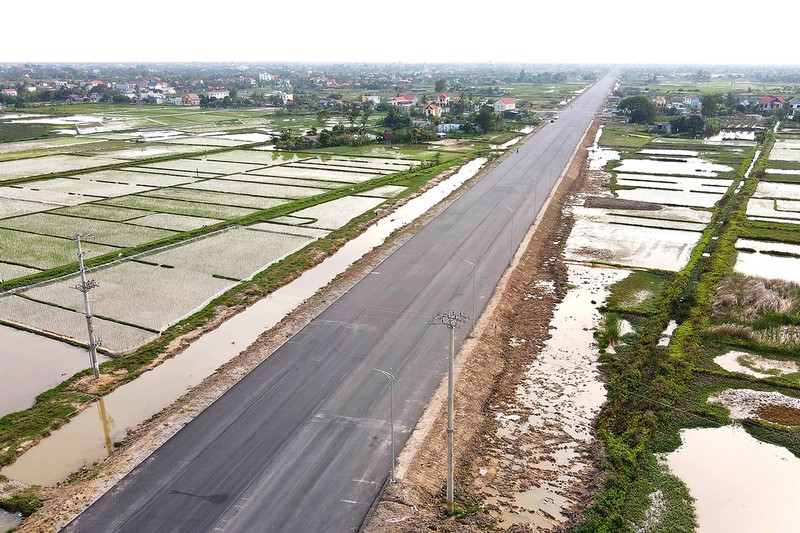 The first part of one kilometer long has been covered with asphalt. Photo: Giang Chinh
From the investor's perspective, Mr. Do Anh Tuan, Director of Hai Phong Construction Investment Project Management Board, said that the project did not reach the signed schedule due to the dependence on bank loans. When the bank tightened the loan, the contractor almost stopped the construction.
Inspecting the construction of the route in mid-March, the Secretary of the Hai Phong's Party Committee Tran Luu Quang affirmed that the coastal road project is an important traffic route related to the development of regional connectivity and national security. He required localities to focus on clearing land and arranging resettlement for affected people.
It is expected that the project will be completed and put into operation from June 2023, after the parties agree to sign the contract appendix in March 2022.
Source: VnExpress