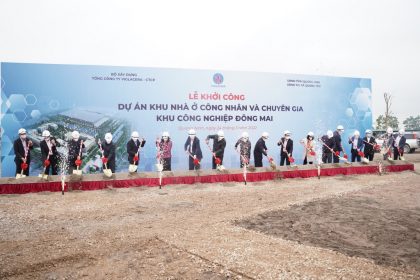 On March 24, 2022, in Quang Yen town, Quang Ninh province, Viglacera Corporation – JSC held the Groundbreaking Ceremony of the housing project for workers and experts in Dong Mai Industrial Park.
The event marks the next important step in 2022 for the Corporation, continuing to affirm the leading enterprise of the construction industry; the prestigious brand not only in the field of production of building materials but also in industrial park infrastructure investment, real estate investment, social housing development, especially housing for industrial workers.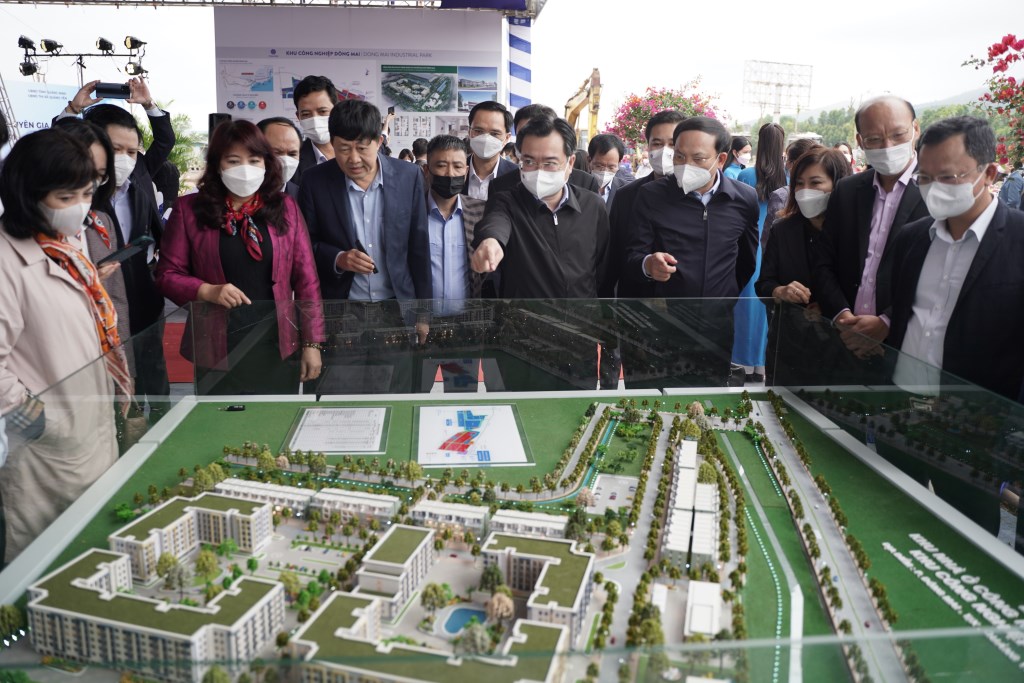 Attending the groundbreaking ceremony were Members of the Central Committee of the Party, Minister of Construction Nguyen Thanh Nghi and Secretary of the Quang Ninh Provincial Party Committee Nguyen Xuan Ky, representatives of the leaders of the Provincial Party Committee, People's Council and People's Committee of Quang Ninh Province; Leaders of departments of Quang Ninh province; Leaders of the Party Committee, People's Committee of Quang Yen Town; the comrades representing leaders of Departments and Departments of the Ministry of Construction, central and local press and television agencies; representatives of local government and people; Leaders of Viglacera Corporation and enterprises participating in investing in Dong Mai Industrial Park.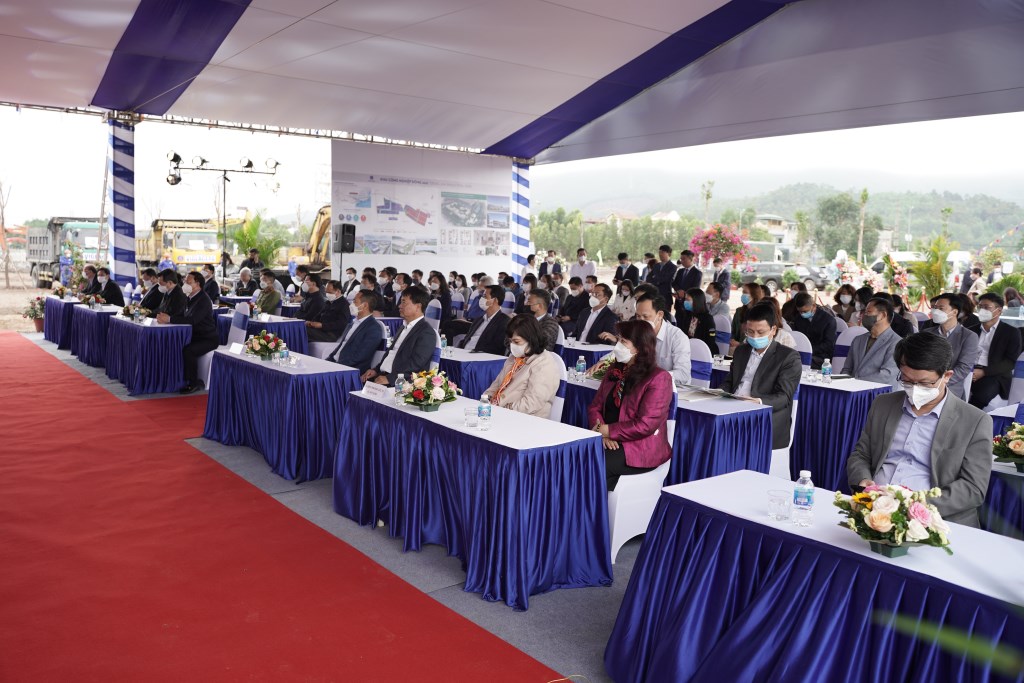 Viglacera Corporation has more than 20 years of experience in industrial park (IP) development in Vietnam, with 12 IPs with more than 4,000 hectares of leased land attracting more than 300 domestic and foreign investors. Among them are large and high-tech manufacturing corporations, multinational corporations such as Samsung, Hyosung, Amkor (Korea), Canon, Yazaki, Toyoda Gosei (Japan), Foxconn (Taiwan), BYD (China), etc. with investment capital up to tens of billions of USD.
Viglacera focuses on developing synchronous infrastructure in IPs: technical infrastructure, service infrastructure and social infrastructure, full of other utility services, Viglacera's IPs have affirmed its outstanding advantages in the business of industrial real estate and become the leading industrial park developer in Vietnam.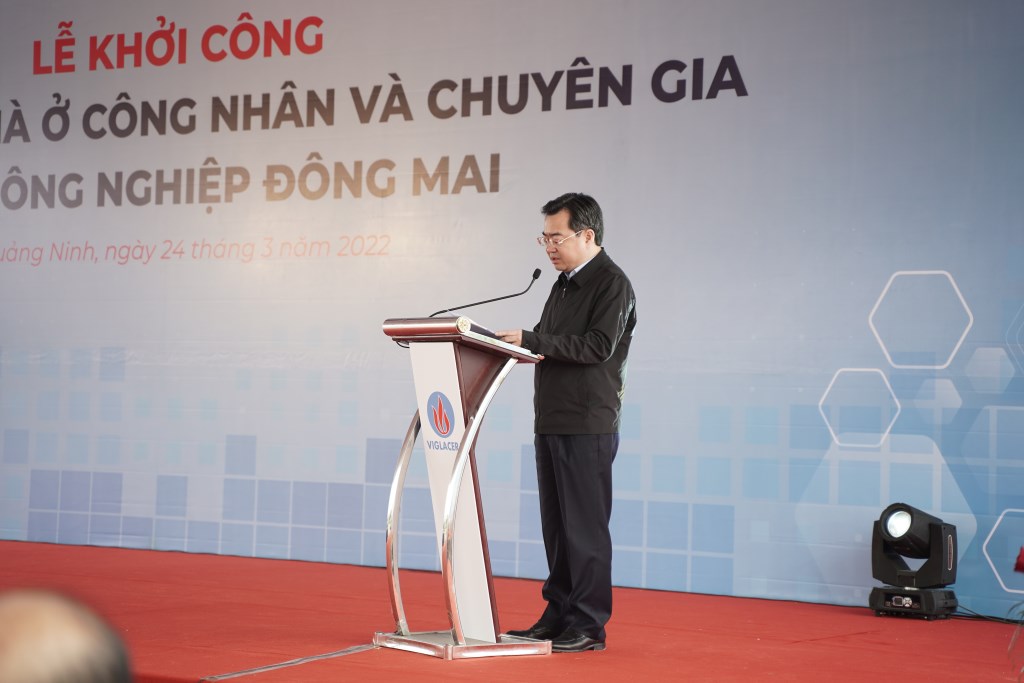 Minister of Construction Nguyen Thanh Nghi directed at the ceremony
Particularly in Quang Ninh, Viglacera Corporation – JSC is currently the investor of two infrastructure investment and business projects in Dong Mai Industrial Park (Quang Yen Town) and Hai Yen Industrial Park (Mong Cai City). These are two of the industrial zones identified by Quang Ninh province as a key attraction for strategic secondary investors.
In which, Dong Mai Industrial Park has an area of 168 hectares, has completed the construction of technical infrastructure and has attracted 23 production enterprises with a workforce of about 15,000 people; it is expanding with an expected scale of 149 hectares and carrying out procedures to prepare for project investment.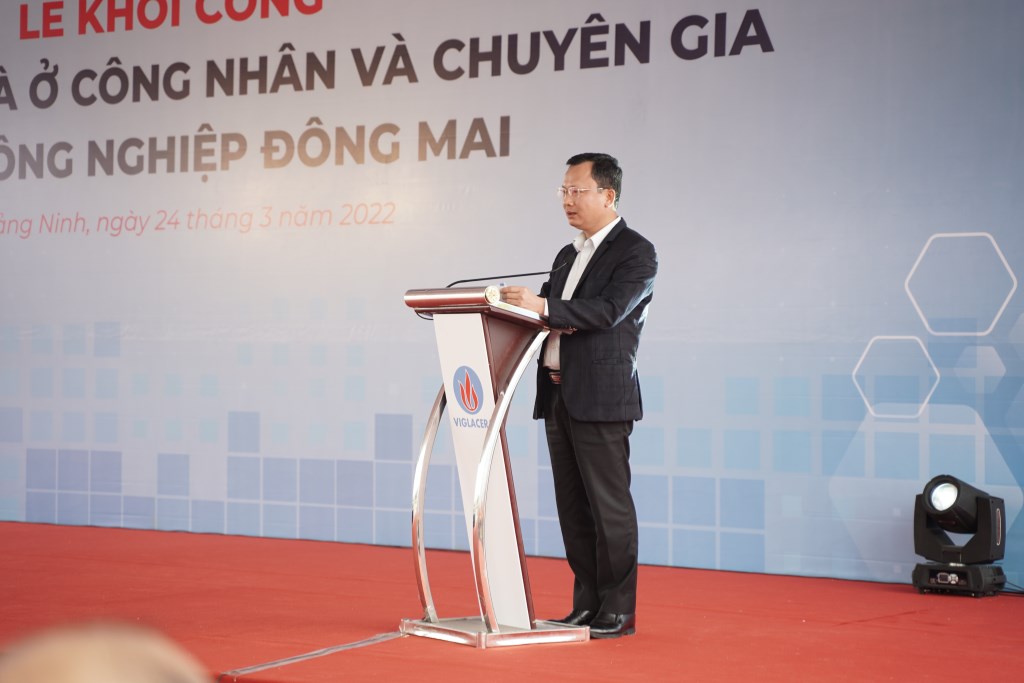 Deputy Secretary, Standing Vice Chairman of the Party Committee of Quang Ninh Provincial People's Committee Cao Tuong Huy spoke at the ceremony
With a location right next to Dong Mai Industrial Park, Dong Mai Industrial Park's housing project for workers and experts developed by Viglacera Corporation – JSC has a total area of 9.1ha, including 5 blocks of 6 floors with 1,000 apartments for workers and 72 low-rise houses for professionals working in Dong Mai Industrial Park. The apartment area is from 26 – 67 m2, including 1 – 3 bedrooms; the low-rise land area is from 82 – 90 m2 and the construction area is from 245 – 287 m2. The project is invested with synchronous technical infrastructure and full utilities such as green parks, kindergartens, public services plus, fire protection system, supermarket, clinic, pharmacy, etc.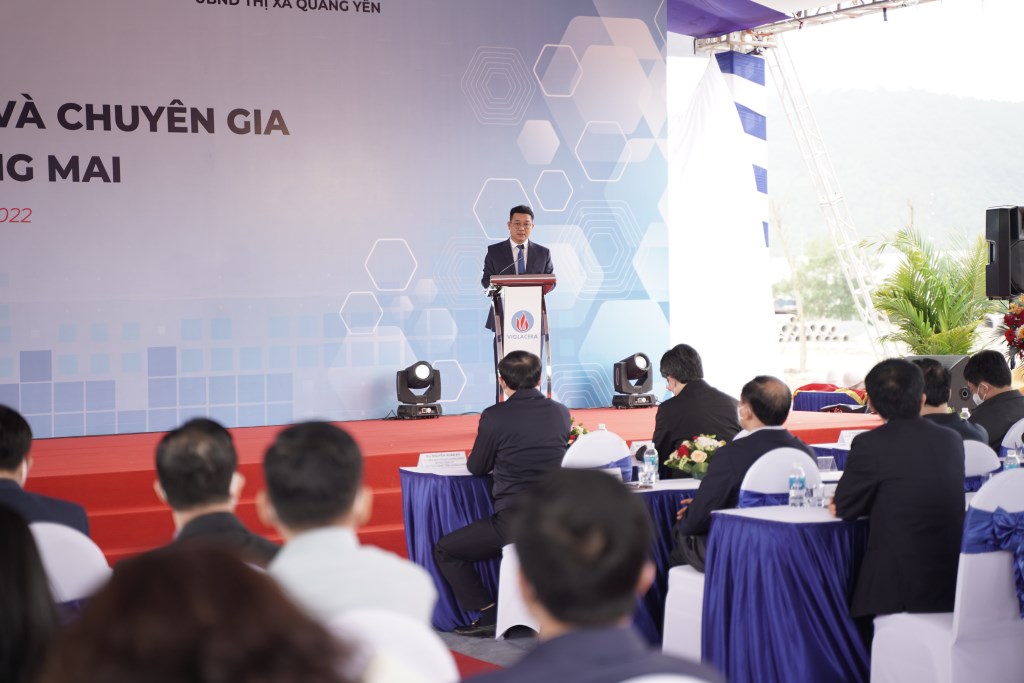 Director of Construction Investment Projects Management Board of Viglacera Corporation Tran Anh Tuan reported on the project at the Ceremony
The project has a selling price of only 7.1 million VND/m2 and the apartment rental price is only from 31,500VND/m2/month, this will help employees "settle in and live happily" with a long-term commitment to enterprises in the industrial park and ensure the goals of economic development and local social security.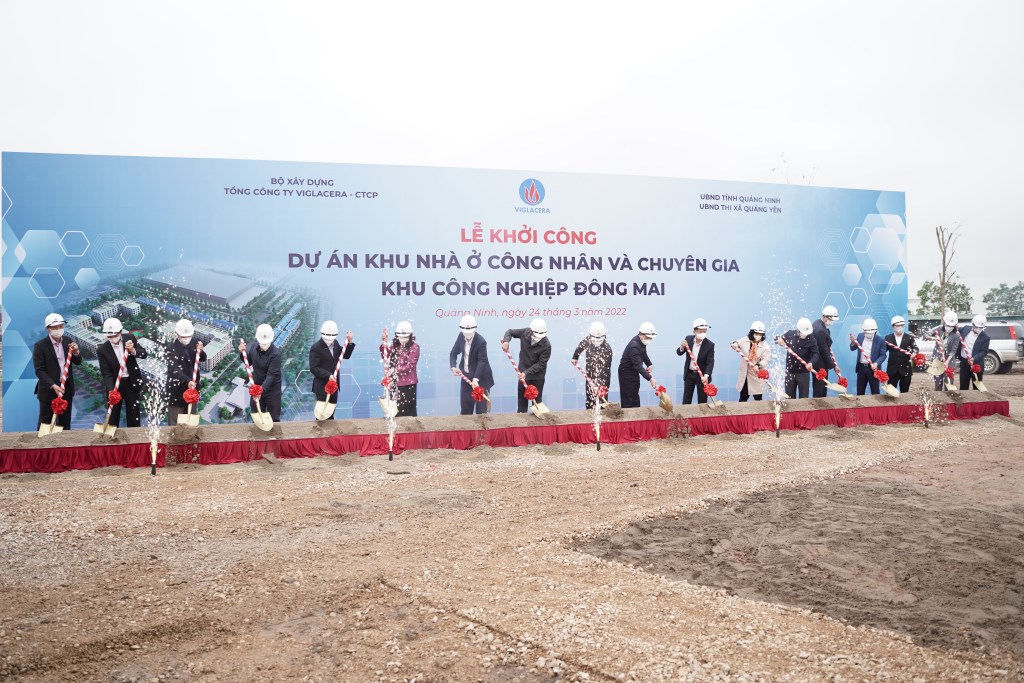 Groundbreaking Ceremony of Dong Mai Industrial Park Housing Project for workers and experts
By taking the initiative and taking the lead in investing in worker's housing in industrial zones, Viglacera is making a great contribution to implementing guidelines and policies of the Government and the Ministry of Construction as well as Quang Ninh province on social housing development for workers, especially when the situation accommodation shortage is increasing with the speed of industrial development in Vietnam, thereby it is demonstrated Viglacera's responsibility to the community as well as increases its attractiveness for industrial zones that Viglacera invests in.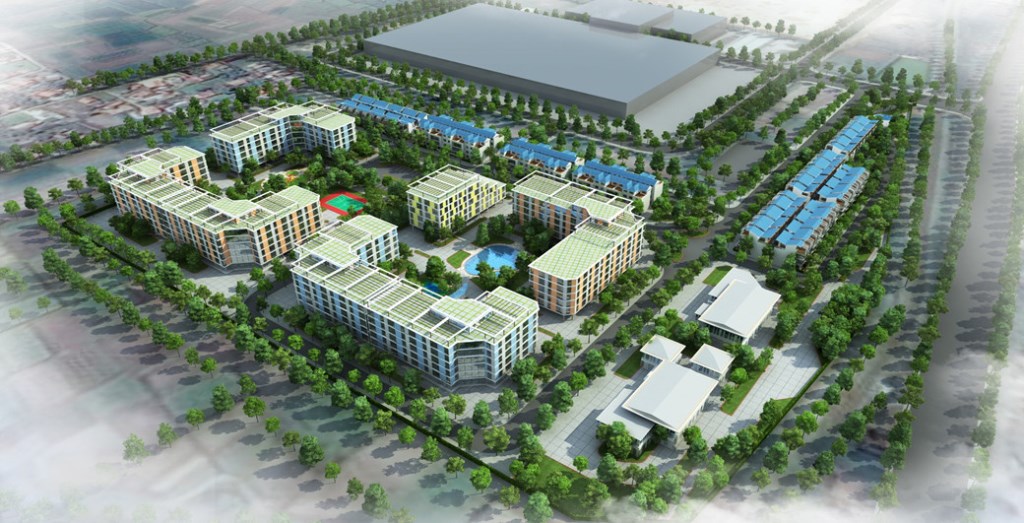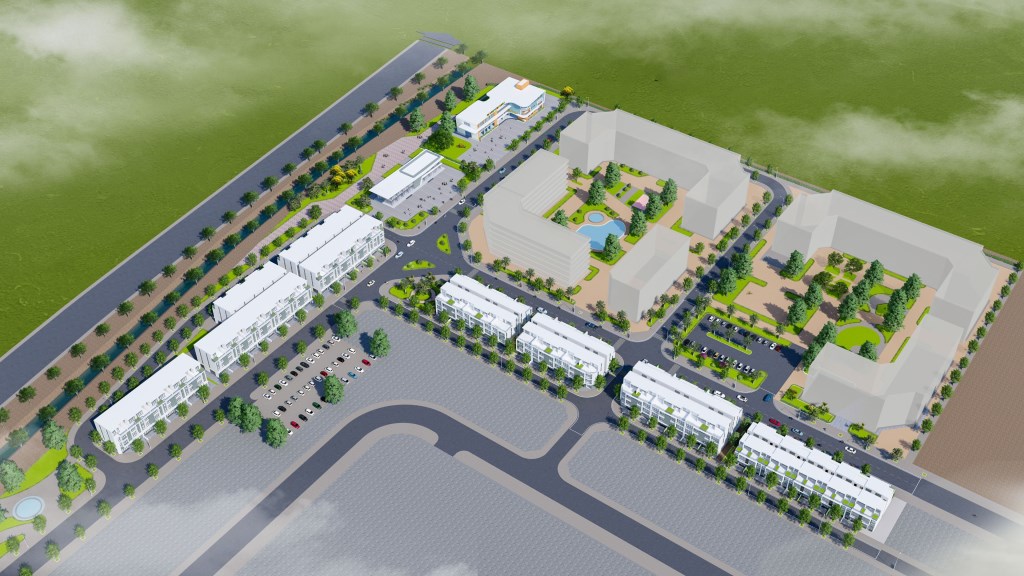 Layout of residential area for workers and experts in Dong Mai Industrial Park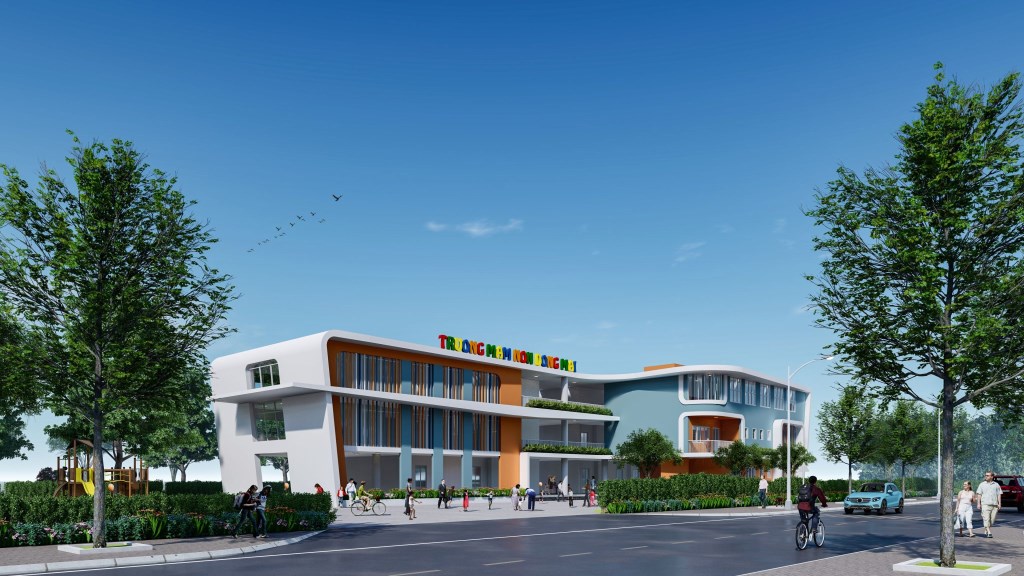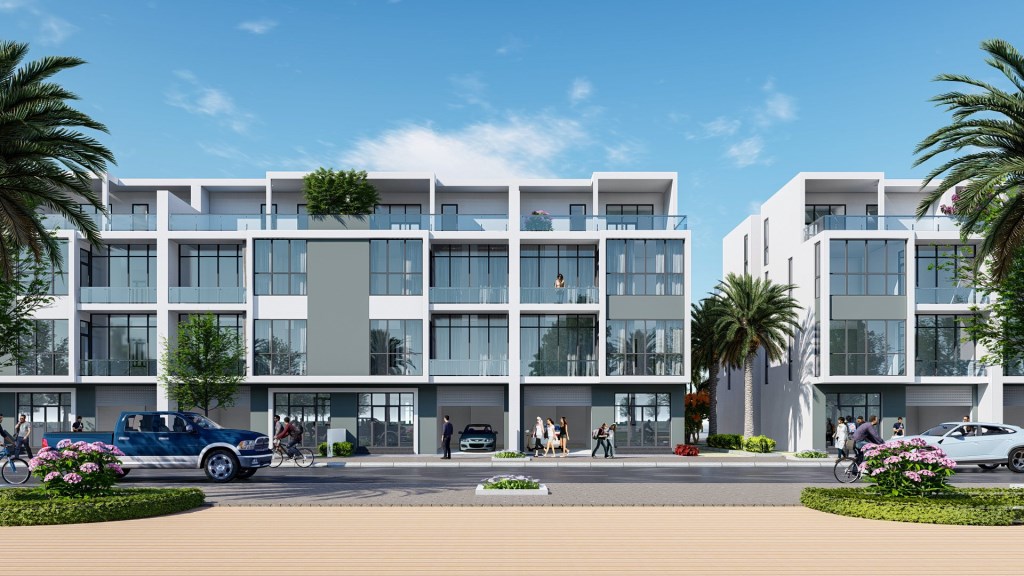 The housing project is fully invested with utilities such as green park, kindergarten and supermarket