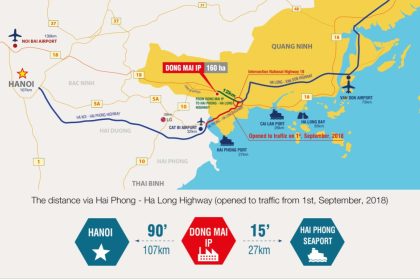 On 1 September, 2018, the Ha Long – Hai Phong Expressway officially opened to traffic. As a result, Quang Ninh Province and Dong Mai Industrial Park (Quang Ninh) promise to become the potential destination for investors in the northern market.
The Ha Long – Hai Phong Expressway plays an important role to promote regional connectivity in the 3H (Hanoi – Hai Phong – Quang Ninh) development triangle, helps to increase cargo traffic from Quang Ninh to other provinces in the North and vice versa.
With direct connection to the Ha Long – Hai Phong Expressway, Dong Mai Industrial Park (IP) is just 12km from the highway. After completion, the expressway will shorten the distance between Hanoi and the IP from 160km to 107km, halve the travel time from 3 hours to 1.5 hours.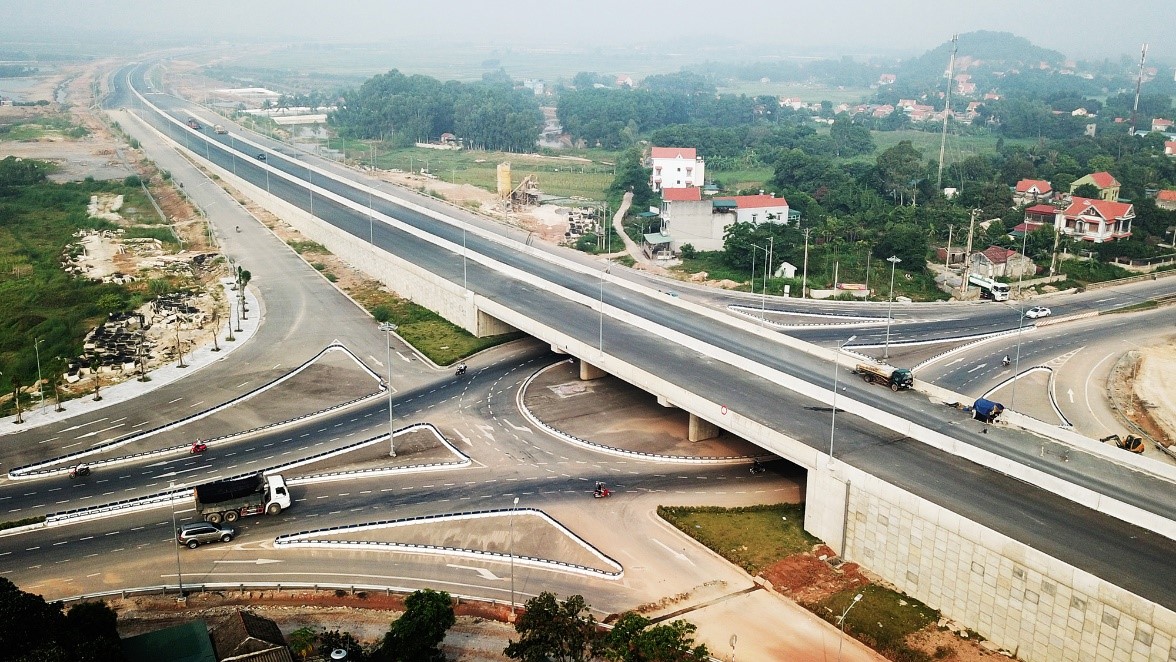 Interchange of National Highway 18 is 12km from Dong Mai IP, connecting the IP to the Ha Long – Hai Phong Expressway
At the same time, the distance from the industrial park to Hai Phong Port is reduced by two thirds (from 75km to 27km), the travel time is 15 minutes, which helps the exchange of goods from Quang Ninh in general and Dong Mai IP in particular to the other countries through the sea become more favorable. In addition, Van Don International Airport is expected to welcome the first plane in December, 2018, promising to expand the mode of air cargo transportation for enterprises located in the IP.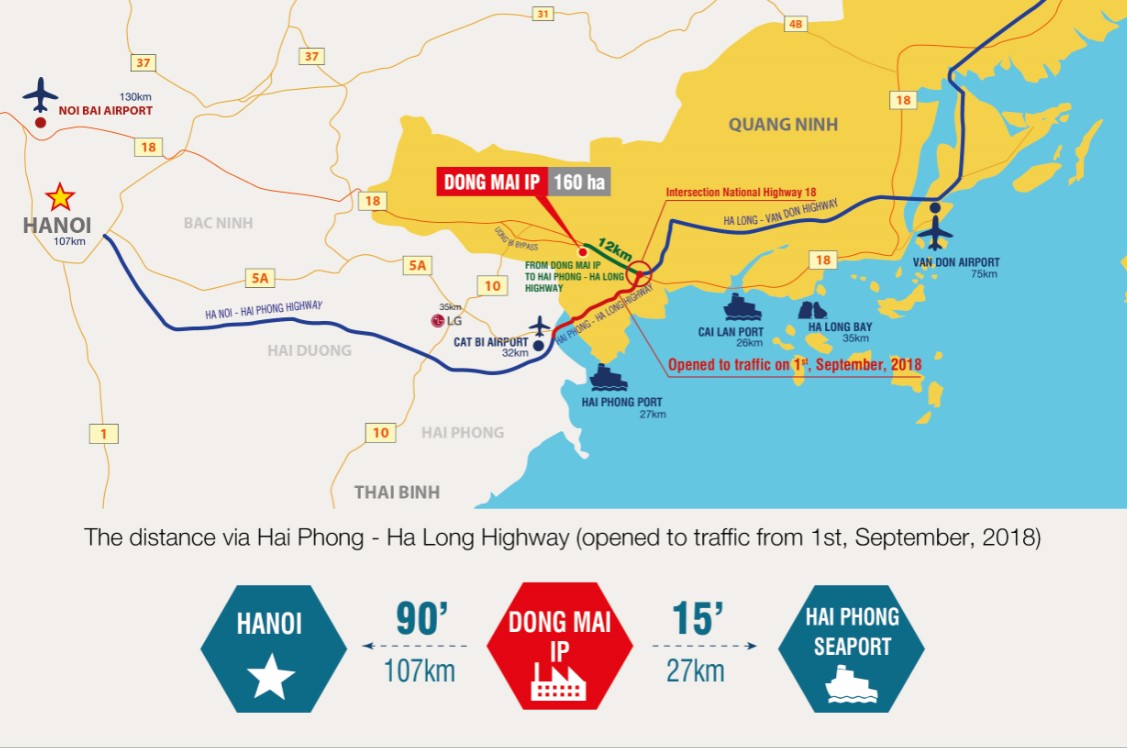 Location of Dong Mai IP (Quang Yen, Quang Ninh)
Besides, Dong Mai IP has the advantage of abundant labor force. Estimated labor force of Quang Ninh Province (2016) is 691,900 people, and up to 3.7 million people from neighboring provinces. Quang Ninh is famous for the quality of education in the North with many prestigious universities, colleges and vocational schools such as Foreign Trade University, Ha Long University, Singapore International School (SIS), etc with 7,500 graduates each year. Furthermore, the IP is only 20 minutes from Ha Long. This city already has completed service infrastructures with reputable hospitals such as Vinmec International Hospital, Quang Ninh General Hospital, places of recreation – tourism such as Ha Long Bay, Sun World Ha Long Complec, etc, which meets the needs of living, entertainment. Therefore, investors don't have to worry about dwelling places for workers or labor shortage comparing to other IPs.
In 2013, Yazaki Corporation – the largest Japanese group manufacturing meters, electronic components and a host of other products for the world's leading car manufacturers invested in Dong Mai IP. In 2016, Vega Balls Vietnam belonging to Taiwanese group Yuanchi – Top 5 manufactures of basketball in the world, became the next investor. At present, Dong Mai IP has available land for lease, competitive price and ready to welcome enterprises to build factories immediately.
With the total investment of up to 30 million USD by Viglacera Corporation JSC, Dong Mai IP has 160ha along with synchronous infratructures. This IP provides 110/22KV power plant which is supplied from the national grid, in-house water supply station with the capacity of 6,500m3/day, a separately constructed rainwater and waste water drainage system with waste water treatment capacity of 4,800m3/day. Investors in Dong Mai IP are supported by: custom services, banks, hospitals, post office and especially Dong Mai urban area (9.1 ha) for workers who want to live within the IP.
For further information, please contact: Viglacera Real Estate Company – Tel: (+84) 888 25 22 88 | Website: https://viglaceraip.com