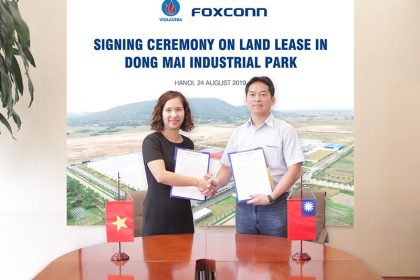 In the 2019's Strategy of production development and expansion, Hong Hai Science and Technology Group (Foxconn) – the world's largest Taiwan enterprise in the fields of electronics, IT and computers made a decision to invest in Quang Ninh province, particularly in the projects of Dong Mai Industrial Park (Viglacera).
Foxconn is the largest order – based manufacturer in the world and currently has more than 100 companies and branches in many countries such as China, Japan, Singapore, Australia, England, France, Vietnam, etc. Established in 1974, the group has been well known worldwide for its role as a long – term partner of Apple, specializing in iPhone and iPad products, and assembling Kindle, PlayStation 4, Xbox One, computers … and many different kinds of TVs.
Since the beginning of 2019, Foxconn planned to open an assembly plant in Quang Ninh and paid courtersy visits to Provincial People's Committee to look for investment opportunities. After a comprehensive survey, in August 2019, the group decided to sign a land lease contract in Dong Mai Industrial Park.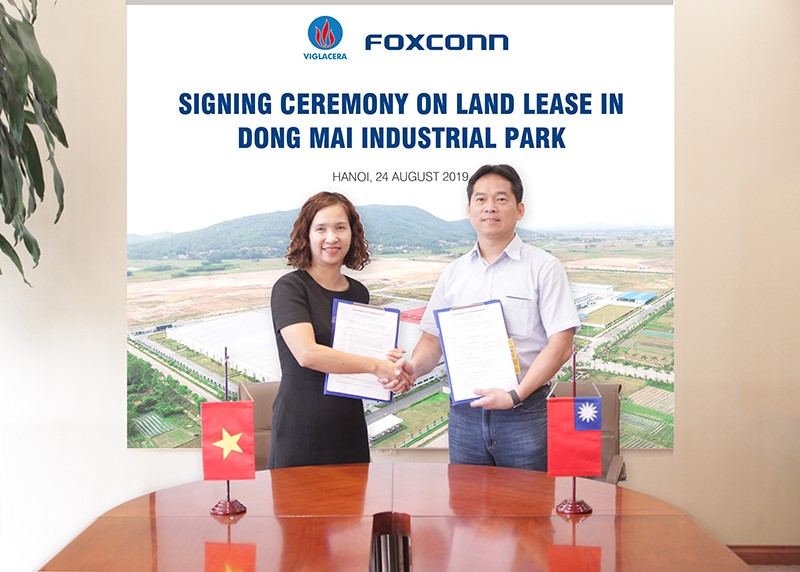 Mr. Oh Jen Hui – Director of Foxconn Singapore PTE Ltd signed a land lease contract at
Dong Mai Industrial Park with Viglacera Real Estate Company
With a scale of 10 hectares, the factory would be manufacturing TV's screen and components with the estimated investment of 26 million USD at the first phase and employing 3,000 workers, said Mr. Harry Zhuo – General Director of Hong Hai Technology Group. The efficiency of this project will be considered to continue the investment and expansion in the future.
According to the 2018 Provincial Competitiveness Report (PCI) published by the Vietnam Chamber of Commerce and Industry (VCCI), Quang Ninh province is holding the top position. In addition, the highway Hai Phong – Ha Long – Van Don opened in 2018 helping to shorten the distance from Hanoi to Dong Mai Industrial Park and to Hai Phong Port, it completed the economic triangle connection among Hanoi – Hai Phong – Quang Ninh and increased the volume of goods transported from Quang Ninh to the northern provinces and vice versa. With the above advantages and the enthusiastic support of the Provincial People's Committee, after Foxconn Group, Dong Mai Industrial Park in particular and Quang Ninh province in general would be definitely luring more potential foreign investors in the future.
Developed by Viglacera Corporation – JSC, Dong Mai Industrial Park covers 168-hectare area, with a synchronous infrastructure system. The industrial park possesses a 110/22KV electricity system supplied from the national grid, a water supply station with capacity of 6,500 m3/day, a separate rainwater and wastewater drainage system, and a public sewage treatment plant with capacity of 4,800 m3/day. In addition, investors in the Industrial Park are supported with customs services, banking, hospitals, post offices, and especially Dong Mai building complex with an area of 9.1 hectares for workers who want to accommodate right in the industrial Park.
The industrial Park also has cleared land and offered competitive rent rate, it is ready to meet the needs of businesses to build factories immediately.
For more information, please contact: Viglacera Real Estate Company – Phone: (+84) 888 25 22 88 | Website: http://viglaceraip.com