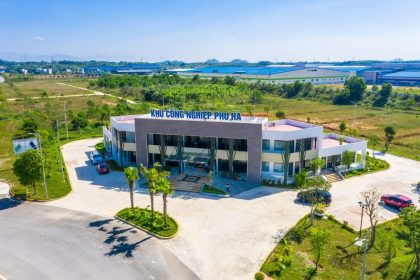 Under unprecedented difficult conditions, Vietnam has overcome great challenges from the Covid-19 pandemic with the achievement of attracting FDI which is considered the "bright spot" of the national economic picture. By September 2021, Vietnam has 1,212 new projects, with a total newly registered capital of nearly 12.5 billion USD (up 20.6% over the same period last year). In which, Phu Tho contributed 900 million USD/31 billion USD from foreign investment, ranking 14th out of 63 provinces and cities. Phu Ha Industrial Park is considered a key industrial zone of the province, a potential destination for domestic and foreign investors.
In March 2022, Future Innovation Co., Ltd. decided to expand in Phu Ha Industrial Park. This is an enterprise of the Hong Kong electronics group, which has been operating a factory since November 2021. In less than 6 months of operation, the company quickly decided to lease more land in the same area to develop production. On an expanded area of 55,000m2, with a total investment of 30 million USD, Innovation will produce bluetooth wireless headsets and other products related to audio and electronic equipment, and supply them to Apple Corporation. This choice has shown the trust of the business to the investor, as well as affirmed the prestige of Viglacera Corporation.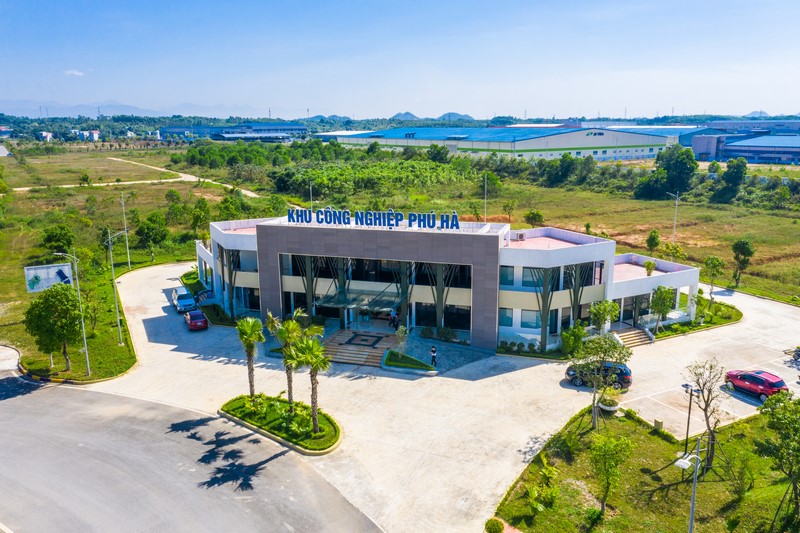 Phu Ha Industrial Park has synchronous and modern technical infrastructure and services.
Started in 2015, Phu Ha Industrial Park has become a reliable address, continuously receiving attention from domestic and foreign investors, especially electronic and high-tech enterprises with a coverage of leasing land over more than 100ha. Among the investors, some can be mentioned such as company BYD Electronic (International) (China) pours 269 million USD into investment capital in manufacturing, assembling and repairing electronic devices for iPad; Asentec company (Korea) manufactures wheel speed sensors, power cables and components and spare parts for Hyundai cars; ActRo Vina company (Korea) manufactures and processes camera components for mobile phones and other electronic devices to export and supply to Samsung, LG, etc.; INOUE Rubber company (Japan) owns the tire brand IRC Tire with more than 90 years of experience in manufacturing all kinds of tubes and tires for two-wheeled vehicles including bicycles, motorbikes, wheelchairs, and 7 factories worldwide, supplying products to Honda Vietnam, Yamaha Vietnam and other assemblers, with a total investment of 60 million USD.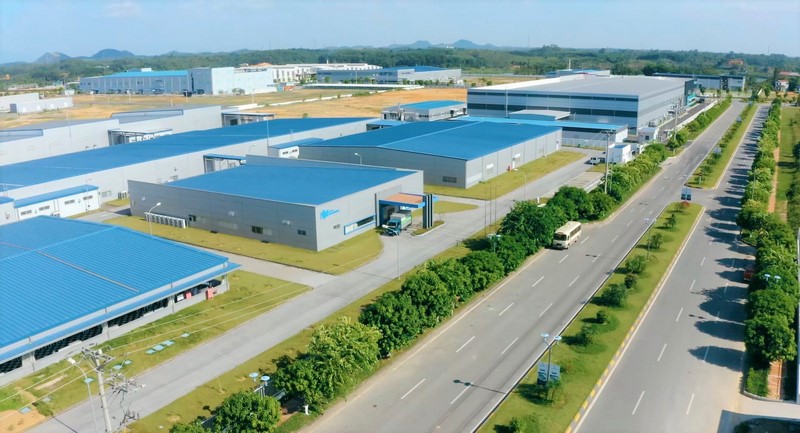 Factory in Phu Ha Industrial Park
Despite the complicated developments of the Covid-19 epidemic, the industrial zones developed by Viglacera are still the destinations of more than 40 domestic and foreign investors, successfully attracting large production and technology corporations, large corporations multinational companies such as Wiselead, Foxconn (Taiwan), BYD (China), Hyosung, Amkor (Korea), etc. with investment capital up to billions of USD, total leased area of more than 220 hectares. In response to optimistic forecasts about the economic recovery in 2022, Viglacera Corporation has been constantly making efforts to focus on site clearance and infrastructure improvement in order to promptly meet the land demand for industrial production and welcome the next wave of investment.
Phu Ha Industrial Park (Viglacera) with a scale of 350 hectares, is located in Phu Tho town, easily connected to Noi Bai – Lao Cai highway through Interchange (IC) 9, belongs to the economic corridor Hai Phong – Hanoi – Lao Cai – Kunming (China), near Ho Chi Minh road, convenient to move to Noi Bai airport (45 minutes), Hanoi center (1 hour) and surrounding areas. The industrial park has completed synchronous and modern technical and service infrastructure. In the future, the social housing area located right next to the industrial park is expected to provide 698 apartments, housing for 2,500 workers in the industrial park. With the above advantages, Phu Ha Industrial Park becomes one of the top choices for businesses wishing to expand production in the North.
For more information, please contact: Viglacera Real Estate Company – Phone: (+84) 888 25 22 88 | Website: www.viglaceraip.com