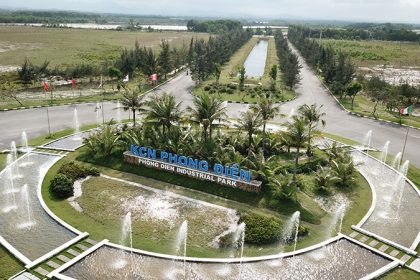 Phong Dien Viglacera Industrial Park, covering 284 ha, was launched in 2015. After five years of development with ongoing cooperation efforts for synchronous and modern infrastructure from Viglacera Corporation – JSC, the industrial park has been a reliable address for investors and become an attractive new destination in the central region.
Phong Dien Viglacera Industrial Park is located in Phong Dien district, Thua Thien Hue province in the heart of the central region, lying on the backbone North- South traffic system, East-West Economic Corridor that links Thailand, Laos and Vietnam along Provincial Road 9 and lying between Hanoi and Ho Chi Minh City, two major economic centers. The province has convenient road, rail and water traffic networks and is home to many universities and colleges that train an abundant workforce. Phong Dien Viglacera Industrial Park is close to National Highway 1A and the North-South Railway, 35km from Hue City, 50km from Phu Bai Airport, 30km from Thuan An Port, 90km from Chan May Port and 120km from Tien Sa Port. These facilities enable tenants to easily import and export goods.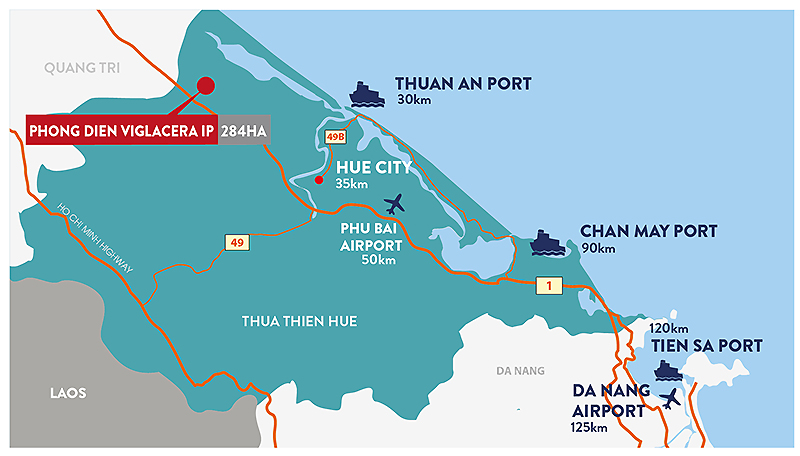 Location of Phong Dien Viglacera Industrial Park.
Costing VND700 billion for construction, Phong DienViglacera Industrial Park is a general high-tech destination, aiming at environment-friendly industries such as electronics, information technology, and agricultural processing, food and beverage, textile and garment, construction materials, mineral extraction and processing, sand mining and processing as it lies near to enormous quartz sand mines. Currently, it has a synchronous and modern system of technical and service infrastructure: The internal traffic system with trunk roads of 2-4 lanes and 22-33m wide, a 110/22KV power source supplied by the national grid, and a water plant with a daily capacity of 11,000 cubic meters. Not only investing in technical infrastructure, Viglacera also shows its corporate social responsibility (CSR) when it planned to develop a residential area for workers next to the industrial park in the future. The project will help solve accommodation needs of workers and indirectly help tenants reduce labor costs and increase their employment appeals.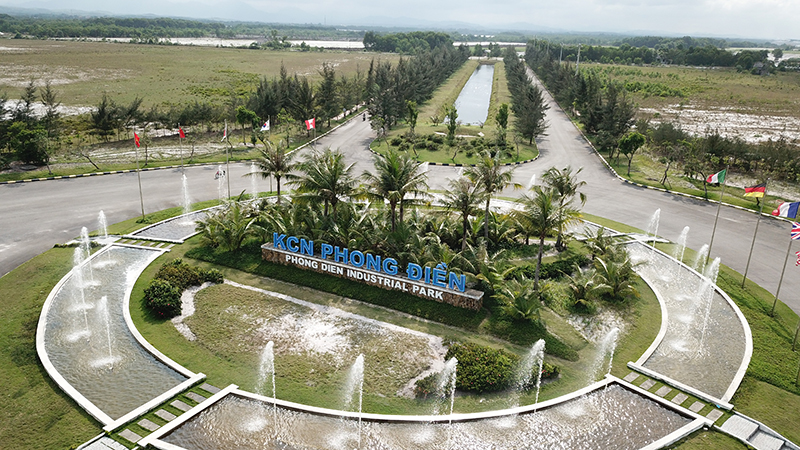 Synchronous and modern technical infrastructure – service system in Phong Dien Viglacera Industrial Park.
Over the past years, Viglacera has continuously invested in investment promotion and taken part in domestic and foreign investment conferences. As a result, Phong Dien Viglacera Industrial Park in particular and Thua Thien Hue province in general are increasingly known by investors.
In 2019, Viglacera successfully attracted US$200 million project from Kanglongda Co., Ltd, its first manufacturing factory in Vietnam, to increase its capabilities of global product supply. A Kanglongda representative said that the first factory is of great importance in the parent company's market expansion and development strategy. Therefore, the Board of Directors carefully considered and selected Phong Dien Viglacera Industrial Park because it has advantageous traffic position, easy freight transport by sea, rail, road and air, abundant labor supply, appealing investment incentives and enthusiastic support from local government.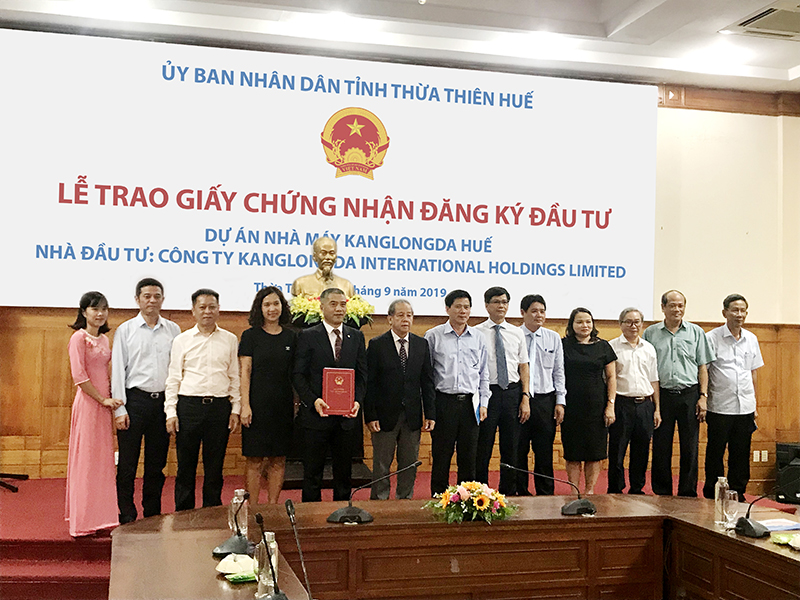 In order to actively welcome investors in the post-COVID-19 period, Viglacera cooperated with Thua Thien Hue authorities to quickly complete infrastructure, land clearance, and prepare clean land. Currently, the industrial park has more than 100 ha of land for factory construction for tenants.
With more than 20 years of experience, Viglacera is one of the first companies to build concentrated industrial parks in Vietnam. Up to now, Viglacera has developed and put into operation 11 industrial parks, including 10 industrial parks in Vietnam and 1 industrial park in Cuba, covering more than 4,000 ha of land and attracting more than 300 investors around the world, including many reputable brands such as Samsung, Orion, Canon, Foxconn, Hyosung, Qisda and Toyoda Gosei. Viglacera's locations are always trusted by investors and importantly helpful for local socioeconomic development.
For more information, please contact:
Viglacera Real Estate Company
2nd Floor, Viglacera Tower, No. 1 Thang Long Boulevard, Me Tri, Nam Tu Liem, Hanoi, Vietnam.
E-mail: vir@viglaceraland.vn
Website: https://viglaceraip.com
Hotline: +84 888 25 22 88