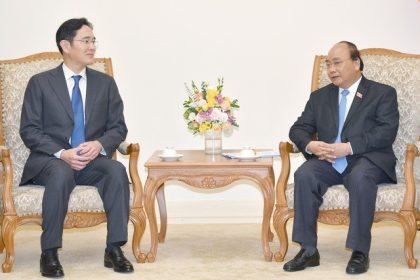 Meeting with Prime Minister Nguyen Xuan Phuc in the afternoon of October 30th, on the occasion of his visit to Vietnam, Mr. Lee Jae Yong, Vice President of Samsung Group affirmed that the Group would invest in Vietnam for a long-term and expand operations in this country.
According to the Government's Web Portal, in the evening of October 30, Prime Minister Nguyen Xuan Phuc received Mr. Lee Jae Yong, Vice President of Samsung Group who was paying a business visit to Vietnam, he proposed Samsung Group to continue to expand its scale of operations in Vietnam, not only be "the largest global production base in Vietnam", but also towards "the largest global strategic base in Vietnam".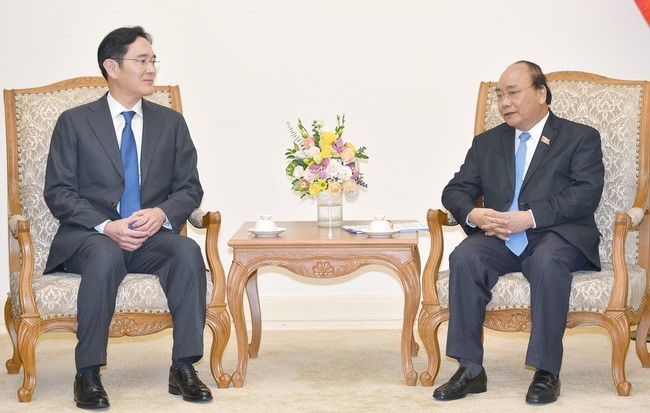 Prime Minister Nguyen Xuan Phuc received Vice President of Samsung Group Lee Jae Yong.
He added, in addition to assembly lines, production of electronic products, Samsung should expand its investment in important manufacturing industries that the Group has competitive advantages, such as research – development of semiconductor, infrastructure, energy, etc.
The Prime Minister also asked Samsung to deploy the Samsung Research and Development (R&D) Center Project as committed, with an aim to promoting R&D activity in Vietnam; continue providing practical support on training and technology transfer in order to facilitate the development of Vietnamese supporting industry enterprises.
Highly valued the investment activities of Samsung in Vietnam with more than 17 billion USD of invested capital, creating jobs for more than 160,000 people and bringing export turnover of 54 billion USD in 2017, Prime Minister said that besides Samsung's determination and efforts, Vietnam's ministries, branches and localities have created favorable conditions for Samsung to invest successfully in Vietnam over the past few years.
The Prime Minister affirmed the Government of Vietnam would continue to support Samsung to be more successful in Vietnam. In response, Samsung Group Vice President Lee Jae Yong expressed his gratitude for the attention of the Government and the Prime Minister for the Group's activities in Vietnam, especially in promptly removing problems and difficulties for the Group.
"Samsung has invested in many countries, but not many countries have listened to and actively resolved business recommendations like Vietnam," said Mr. Lee Jae Yong. Appraising the robust economic growth of Vietnam over the past time, Mr. Lee Jae Yong confirmed Samsung would extend its investment and broaden its operations in Vietnam.
He added, developing supporting industries and increasing the localization rate in Vietnam would not only be the expectation of Vietnam's Government but also of Samsung. Samsung, at the moment, has been both focusing on production and promoting R&D in Vietnam; as well as trying to cooperate more with Vietnamese enterprises in supplying accessories and human resources, etc.
The vice president of Samsung also said that after returning to South Korea, he would hold a meeting with the participation of the Group's officials to consider the investment potentials in other sectors and fields in Vietnam as suggested by the Prime Minister.
Source: baodautu.vn