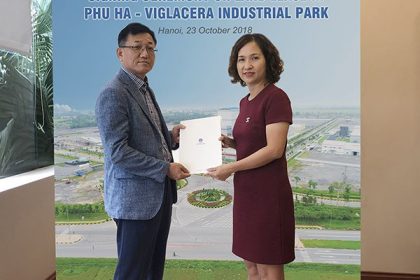 ActRo Vina Co., Ltd, a 100% foreign- invested enterprise from South Korea, decided to choose Phu Ha Industrial Park (Phu Tho province) which is owned by Viglacera, as its stop to build factories and expand production.
On October 23, 2018, Viglacera Land, a real estate trading company under Viglacera Group, conducted the Signing Ceremony of land leasing contract in Phu Ha Industrial Park with ActRo Vina Co., Ltd which specializes in manufacturing and processing camera components used for mobile phones and other electronic devices. Its products are exported to foreign countries and supplied to big brands, such as Samsung, LG, etc. ActRo Vina Co., Ltd plans to start the construction of the factory soon and expects to put it into operation in March 2019.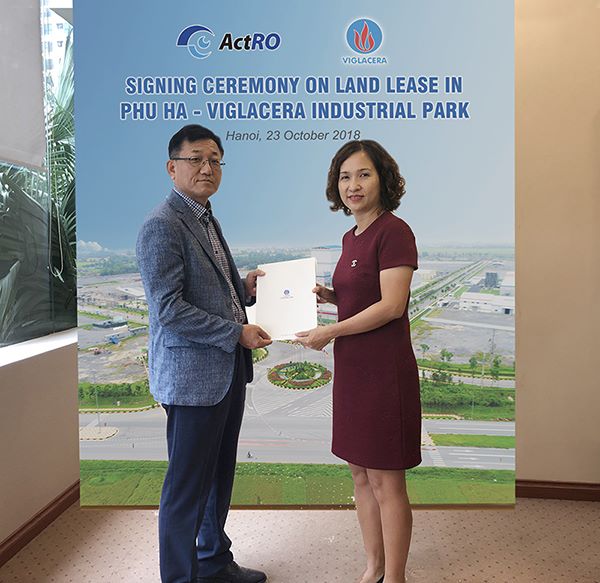 Ms. Nguyen Thu Huong – Deputy Director of Viglacera Land, handed the land leasing contract of Phu Ha Industrial Zone over to Mr. Shin Byeong Kun – Chairman of Actro Vina Co., Ltd.
Up to now, Phu Ha Industrial Park has attracted 16 businesses (covering nearly 50 hectares of leasing land), 13 of them are Korean high-tech enterprises, manufacturing phone components, such as cameras, vibration motor, headsets/headphones, batteries, data cables, mobile phone chargers, circuit boards, etc. besides car accessories, like wheel speed sensors, power cables, and other components and accessories, the remaining are from Japan.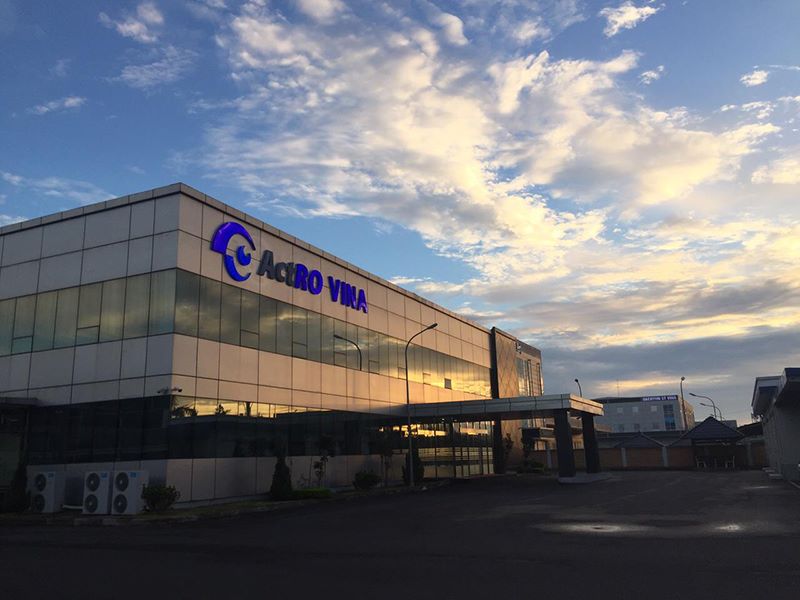 Pictures of factory of ActRo Vina Co., Ltd in Vietnam
Phu Ha Industrial Park is developed by Viglacera with an area of 350 hectares. It is located close to Hanoi – Lao Cai highway, which is also near IC9 (Interchange) and under the economic corridor of Hai Phong – Hanoi – Lao Cai – Kunming (China). Furthermore, the park is next to Ho Chi Minh road route, which makes it convenient for transportation to the airport, the central area of Hanoi and surrounding areas. In addition to its location advantages, Phu Ha Industrial Park also possesses abundant and well-trained labor resources, and competitive rental price in the region. In the future, Phu Ha Industrial Park promises to be a destination to attract much attention from investors when they need to search for a place to expand production.
With modern and synchronous infrastructure, Phu Ha Industrial Park has about 50 hectares of "available land", ready to welcome businesses to build factories right away.
For further information, please contact our hotline: (+84) 8888 22 55 88 | Website: https://viglaceraip.com