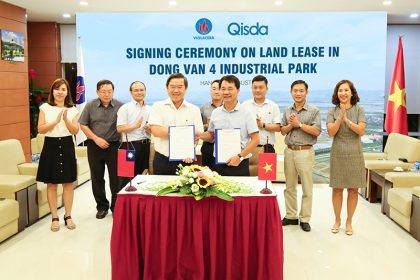 Qisda Corporation – Taiwan's leading electronic corporation associated with supporting businesses signed a land lease contract at Dong Van 4 Industrial Park in August, 2019. The cooperation proved a great attraction of Vietnam in general and Viglacera's industrial park in particular to Taiwanese investors.
In the trend of transfering investment to Vietnam, Viglacera's industrial parks have been consecutively concerned by a number of Taiwan corporations for land lease, including Qisda Corporation Group. Qisda is ranked in the top 10 global display screen and projector processing corporations, under BenQ – a globally strong multi-sectored group. Qisda's products vary from LCD screens, projectors, scanner to industrial automation products (POS, bar-code reader, label printer),…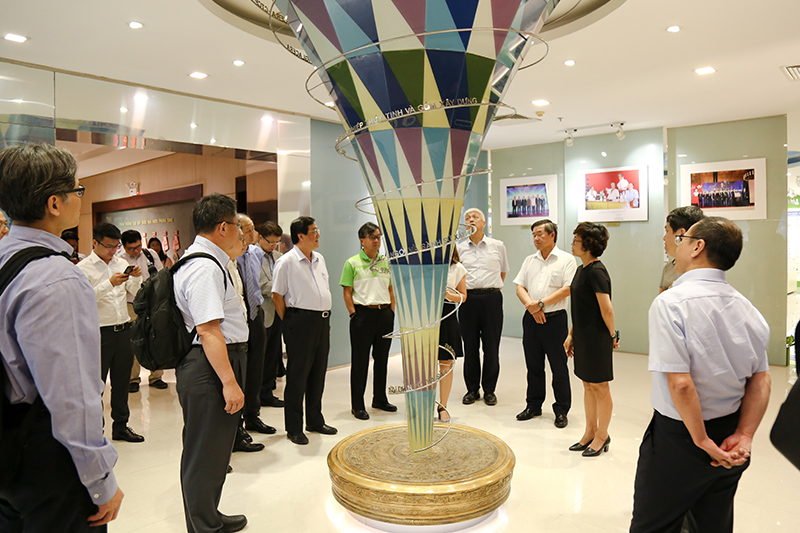 Qisda Corporation Group leaders visit Viglacera Corporation JSC's showroom.
After having conducted careful survey and research on different industrial parks, Qisda Corporation and supporting businesses have trustingly made investment decision in Dong Van 4 Industrial Park (Ha Nam Province). This once again shows the industrial park's attraction and the strong capacity of Viglacera as an infrastructure development investor.

Mr. Nguyen Anh Tuan – Viglacera Corporation JSC General Director and Mr. Peter Chen- Qisda Corporation President in signing ceremony on land lease in Dong Van 4 Industrial Park.
With a scale of up to 60 hectares and an investment of nearly 400 million USD, Qisda along with supporting businesses will be building and operating factory to set up a closed supply chain for the production of display screens, projectors and 4G telecommunication products for domestic market and export.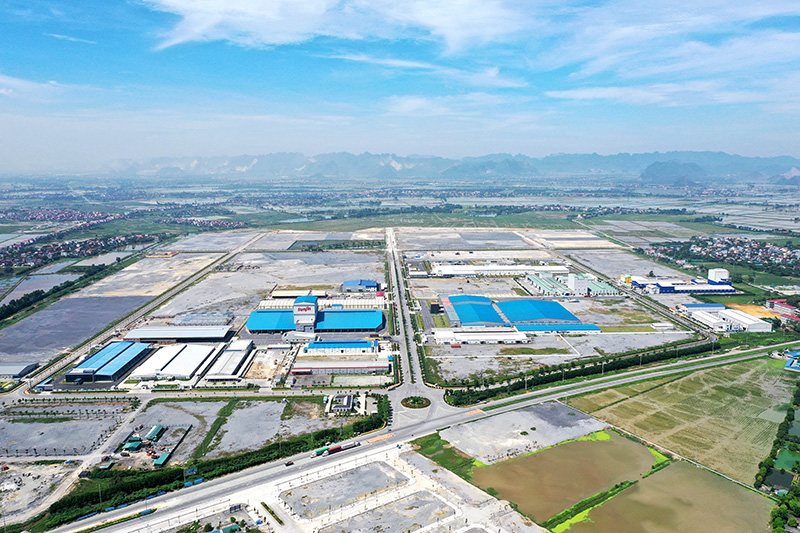 Dong Van 4 Industrial Park (Ha Nam) has developed a synchronized and modern technical infrastructure – services system.
Developed by Viglacera Corporation JSC, Dong Van 4 Industrial Park (600ha) started the construction in November, 2016. After only 3-year operation, the industrial park has been a destination for many major domestic and foreign brands such as Anam Electronics, Masan Group, Kortek Corporation,…Currently, the park has cleaned land to meet full demand and desire of investors.
Dong Van 4 Industrial Park is located on 38 highway, about 50km (40 minutes) away from Hanoi, 114km (90 minutes) from Hai Phong Port on the way through Hanoi – Hai Phong expressway. The industrial park is well-prepared with synchronized and modern technical infrastructure – services with 110/22KV electric system, 2×63 MVA capacity, water plant of 12000m3/day, waste water treatment plant of 8600m3/day. In addition, enterprises in the industrial park are entitled to 10 preferential commitments to foreign investors of Ha Nam province, which helps the operation more favorable. Besides, to attract workforce, Viglacera will arrange accommodation for workers and experts right next to the industrial park, it shows the sustainable development goals of the corporation through useful contributions to the society.
With the advantages above, Dong Van 4 industrial park has received a great attention of investors and become an ideal business production choice of enterprises.
For further information, please contact: Viglacera Real Estate Company – Phone number: (+84) 888 25 22 88 | Website: https://viglaceraip.com