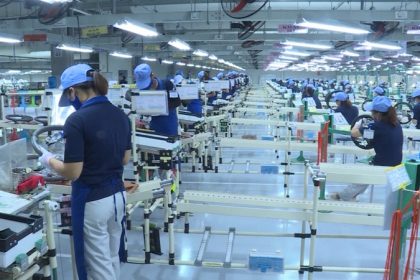 Despite the negative impacts of the Covid-19 epidemic on the world and domestic economies. Thai Binh is still one of the leading provinces in the country in terms of investment attraction, especially with FDI inflows. With the drastic participation of both the political system and the very high consensus of the people, along with the advantages of economic zones and a synchronously connected transport system, Thai Binh is becoming a popular destination for foreign investors to pay special attention.
In October 2019, the Prime Minister approved the plan on construction of Thai Binh economic zone with a total area of 30,583 hectares with 12 subdivisions, with the goal of becoming a center of ocean economy, diversified of the North Coast region and the whole country. Tien Hai currently has 9 industrial parks and 1 industrial cluster with an area of 3,970 ha, of which Tien Hai industrial park with an area of 795 ha in Tay Son, Tay Giang, Dong Lam and Dong Co communes is considered the first industrial park and largest scale in Thai Binh. Particularly, Tien Hai industrial park has attracted 45 investment enterprises and 70 projects with a total registered capital of nearly VND 13,200 billion.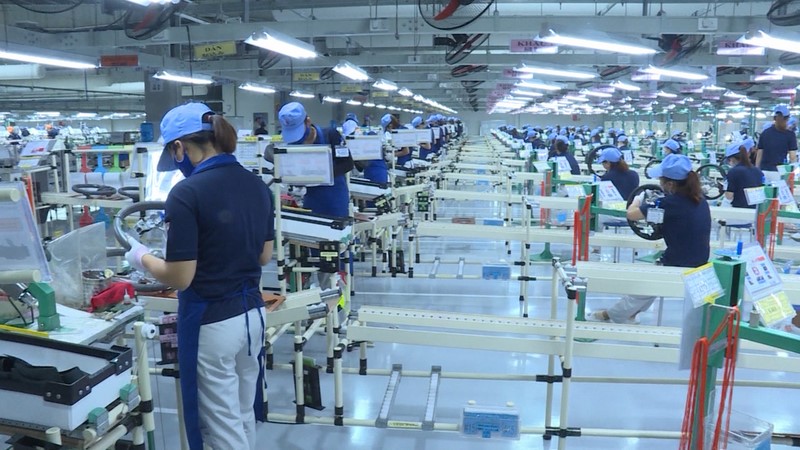 Manufacturing enterprises in industrial zones in Thai Binh province
Up to now, the province has over 1,000 registered investment projects, with a total registered capital of over 140 trillion VND. Of which, there are 90 valid FDI projects with a total registered capital of nearly 800 million USD. According to the assessment of foreign investors, Thai Binh has great potential in attracting investment. Not only because of the advantages of gas, electricity, transportation or Thai Binh Economic Zone, but also because of the very high determination of Thai Binh province. In the 8 months of 2021 alone, the province has 49 projects with approved investment policies, with a total newly and additionally registered capital of over 10 trillion dong.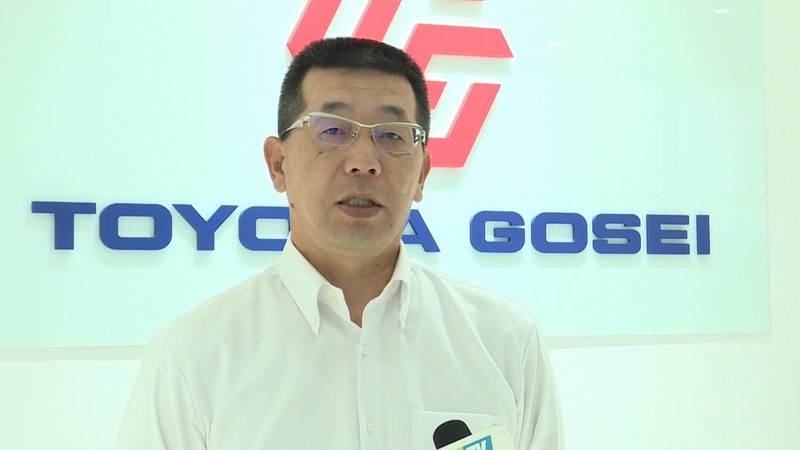 Mr. Masatoshi Kontani – General Director of TOYODA GOSEI Co., Ltd., Japan: "During the construction of the factory, we received a lot of advice from agencies and departments, we think Tien Hai is a place with a lot of potential and trusted by many workers, companies strives to develop."
Besides economic infrastructure, Thai Binh real estate also benefits from the coastal highway connecting 6 northern coastal provinces (Quang Ninh – Hai Phong – Thai Binh – Nam Dinh – Ninh Binh – Thanh Hoa). The entire highway has a length of about 160km, belonging to the program of two corridors – one economic belt, which started construction on September 13, 2014.
With a special connection location, Quang Ninh – Thanh Hoa highway is considered as one of the most important highways promoting Thai Binh trade in the economic development triangle of Hanoi – Hai Phong – Quang Ninh. In particular, Tien Hai enjoys many advantages of regional linkage, creating special opportunities to accelerate industry and promote advantages of sea tourism.
Currently, the Ha Long – Hai Phong highway segment, the first part of the entire highway with a total length of more than 25km, has officially come into operation. The Hai Phong – Thai Binh and Thai Binh – Ninh Binh highways were both started construction in 2017 with a scale of 4 lanes expected to be officially opened to traffic in early 2022.
Developed by Viglacera Corporation – JSC, Tien Hai Industrial Park is located in Thai Binh Economic Zone. Enterprises in Viglacera's Tien Hai Industrial Park will enjoy many incentives such as: Corporate income tax incentives: 10% preferential tax rate for 15 years; Tax exemption for the first 4 years and 50% reduction for the next 9 years; Incentives on land rent: Exemption from land rent for 13 years; Preferential import tax; Incentives on personal income tax, and statutory preferential policies applicable to economic zones.
In addition, Tien Hai Industrial Park also has a great advantage in energy when it is located in Tien Hai gas field area with CNG gas field with large reserve of hundreds of billion m3 of gas, annual capacity of 200 million m3 of gas. Moreover, with the advantage of being located in the region with the most abundant labor resources in the North with a labor force in the province and neighboring provinces of up to 5.5 million workers, businesses in Tien Hai Industrial Park will be very easy to find & recruit workers.
With the above incentives and advantages, Tien Hai Industrial Park has become an attractive destination for domestic and foreign investors.
The industrial park has clean land, competitive rent, ready to meet the needs of businesses to build factories right away.
For more information, please contact: Viglacera Real Estate Company – Phone: (+84) 888 25 22 88 | Website: https://viglaceraip.com
Source: http://thaibinhtv.vn