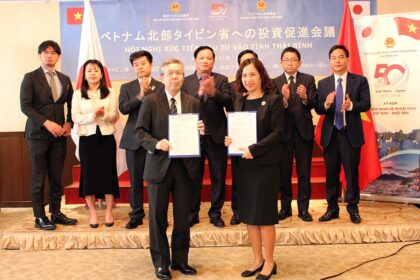 A delegation from Vietnam held a conference in Seoul on Wednesday to promote the Vietnamese province of Thai Binh's potential to rise as an industrial zone, calling for investments from South Korean companies.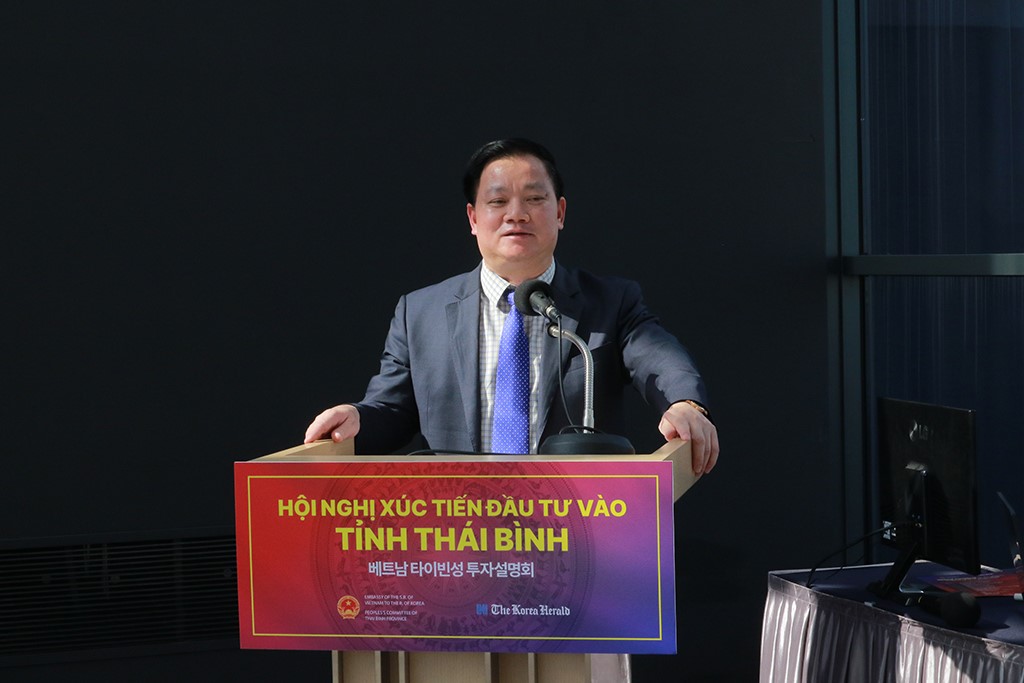 The event, co-organized by Thai Binh Provincial People's Committee, the Embassy of the Vietnam and The Korea Herald, sought to introduce the province's transition from agriculture-oriented industry to a smart industrial complex..
"As of first quarter of 2023, Thai Binh's economic growth rate recorded 8.26 percent, which, compared to other regions of Vietnam, is a great achievement," said Nguyen Khac Than, chairman of the Thai Binh Provincial People's Committee, during opening remarks. "Thai Binh province bears a geographical advantage by working as a connecting point for (Vietnam's) transportation system, and is home to a government-approved sea toll road, which will work as a positive factor for attracting future investments," he added.
Nguyen Vu Tung, the Vietnamese ambassador to South Korea opined that cooperation should include foreign investments being expanded to discovering business opportunities in regional economies of Vietnam, such as the fast-growing Thai Binh province.
Kim Jae-wook, the Korean marketing representative of the real estate firm dealing with the Viglacera industrial complex, expounded more on benefits of Korean companies looking to invest in Thai Binh province, emphasizing that foreign firms that invest in Thai Binh province will be able to fix their corporate tax to 10 percent for 15 years.
And The People's Committee of Thai Binh coordinated with the Vietnamese Embassy in Japan to hold a conference on April 21 in Tokyo to promote Japanese investment in the northern Vietnamese province.
Addressing over 100 representatives of Japanese organisations and enterprises, Vice-Chairman of the Thai Binh People's Committee Lai Van Hoan introduced the strengths of his province, such as its favourable geographical location, an abundant workforce, a large land reserve for industrial development, and one of the highest growth rates in Vietnam.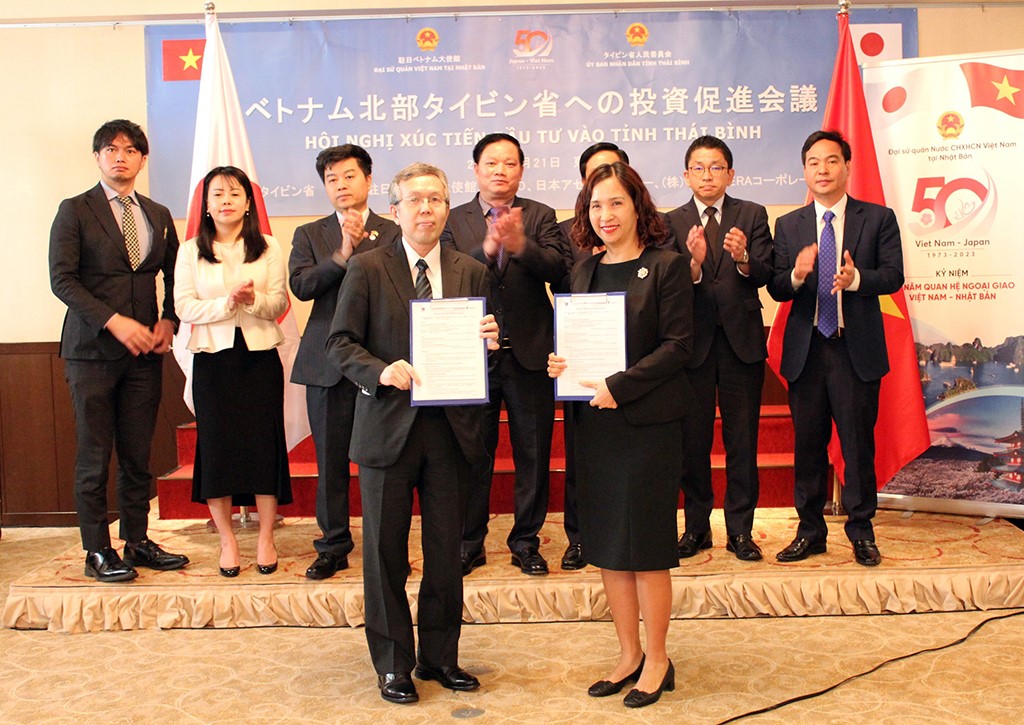 He noted Japanese enterprises are strong in the fields which Thai Binh prioritises such as support industries, electronics, manufacturing, tourism, hi-tech agriculture, and pharmaceutical production.
Given this, it has and will always keep its door wide open to Japanese investors as it has confidence in and highly values their investment, scientific, and technological capabilities, as well as their production and business effectiveness, the official went on.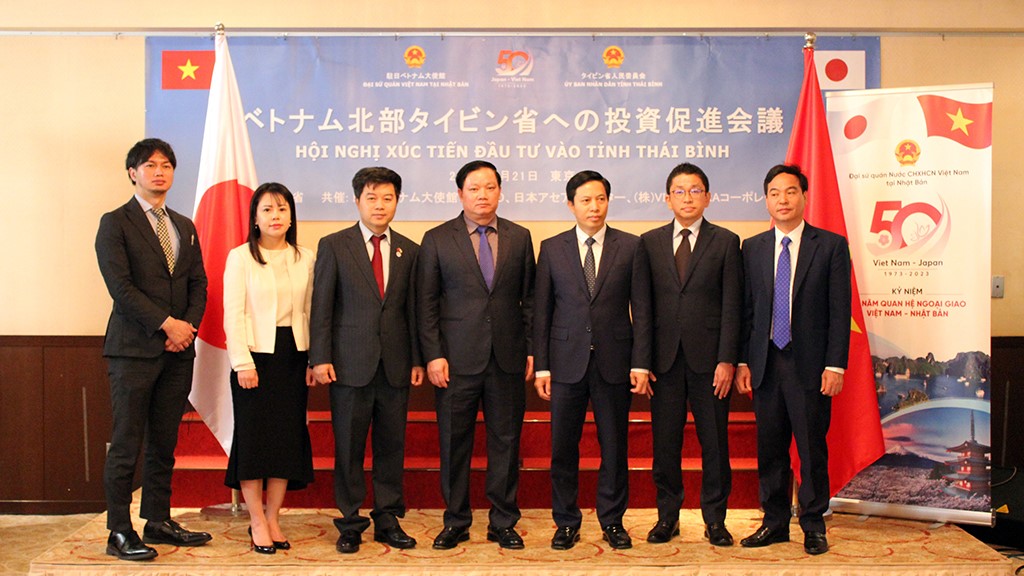 At the event, Thai Binh officials presented the province's potential, policies on foreign investment attraction, and some outstanding industrial parks. They also fielded Japanese firms' questions about investment policies and licensing procedures.
The two sides also witnessed the exchange of memoranda of understanding between the Viglacera Corporation and its Japanese consulting partner.
Developed by Viglacera Corporation – JSC, Tien Hai Industrial Park is located in Thai Binh Economic Zone. Enterprises in Viglacera's Tien Hai Industrial Park will enjoy many incentives such as: Corporate income tax incentives is 10% preferential tax rate for 15 years; Tax exemption for the first 4 years and 50% reduction for the next 9 years; Incentives on land rent: Exemption from land rent for 13 years; Preferential import tax; Incentives on personal income tax, and statutory preferential policies applicable to economic zones.
In addition, Tien Hai Industrial Park also has a great advantage in energy when it is located in Tien Hai gas field area with CNG gas field with large reserve of hundreds of billion m3 of gas, annual capacity of 200 million m3 of gas. Moreover, with the advantage of being located in the region with the most abundant labor resources in the North with a labor force in the province and neighboring provinces of up to 5.5 million workers, businesses in Tien Hai Industrial Park will be very easy to find & recruit workers.
With the above incentives and advantages, Tien Hai Industrial Park has become an attractive destination for domestic and foreign investors.
The industrial park has clean land, competitive rent, ready to meet the needs of businesses to build factories right away.
For more information, please contact: Viglacera Real Estate Company – Phone: (+84) 888 25 22 88 | Website: https://viglaceraip.com