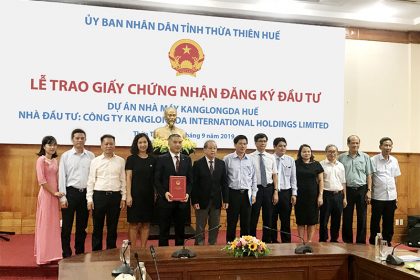 On September 26th, 2019, the People's Committee of Thua Thien – Hue Province handed over an investment registration certificate to Kanglongda International Holdings Limited to launch the first factory in Vietnam.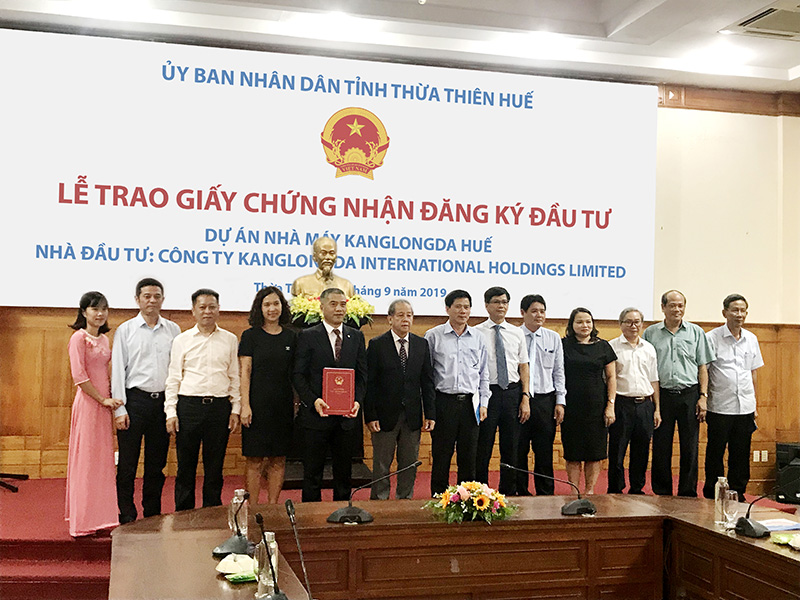 The ceremony of granting Hue Kanglongda factory investment registration certificate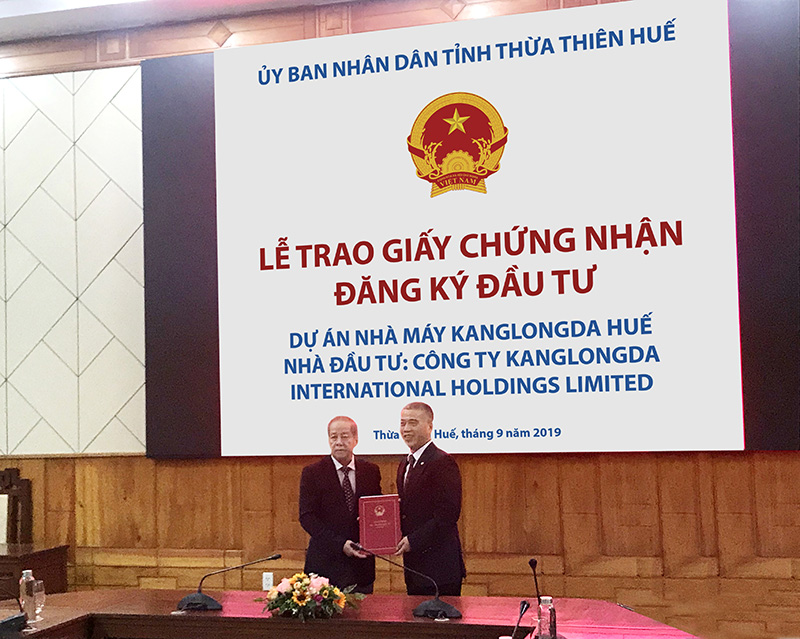 Mr. Phan Ngoc Tho – Chairman of Thua Thien – Hue Provincial People's Committee awarded Investment Registration Certificate to Mr. Zhang Jian Fang – Chairman of directors of Kanglongda International Holdings Limited
Kanglongda Company has planned to enter into Vietnam market with the aim at increasing its global supply ability since 2018. After a detailed research and survey, the company decided to invest 200 million USD to build and operate a 35-hectare factory in Phong Dien Industrial Park (Viglacera). The factory will produce: disposable gloves (including protective gloves for electronics and medical gloves) and polyethylene fibers. It is expected to go into operation in the first quarter of 2021.
A representative of Kanglongda Company said that the first factory in Vietnam is of importance to the parent company's market development and expansion strategy. Therefore, the Board of Directors had considered carefully before selecting Phong Dien Industrial Park (Viglacera) to settle down. They assessed that the park has great advantage of transportation advantage when it is only about 30km away from Hue city towards the north, near National Highway 1A and North-South railway, about 45km from Phu Bai International Airport and about 80km from Chan May Port, as a result it is extremely convenient to transport goods via sea, rail, road and air. At the same time, the abundant local labor force will meet the recruitment needs of the company. In addition, the appropriate preferential policies, the support from local authorities and the province's developing infrastructure are also important factors in Kanglongda's decision.
Talking about the investment environment of the province, the management board of Thua Thien Hue Industrial Parks said: "With the promotion of construction investment and preferential policies to create an area of cleared land to attract businesses, we believe that investors can be completely assured when investing in the province; apart from the preferential policies of the Government, Thua Thien Hue province is committed to provide the best conditions for investors when they come to Hue. Accordingly, the investment projects in the industrial parks will have enjoyed very low rates of land lease and reasonable service prices. Projects in the province will be also applied the low land renting price as prescribed. Besides, the province partly supports the site clearance compensation for key projects and the cost of training human resources for enterprises investing in the area. In addition, the province will enhance investment promotion, provide free information and simplify administrative procedures to give the maximum convenience for companies.
That the first enterprise has invested in Phong Dien Industrial Park (Viglacera) is an evidence for the increasing attractiveness of the province and the industrial park, as well for affirming the great prestige of Viglacera.

Image: Kanglongda International Holdings Limited in China
Developed by Viglacera Corporation – JSC, Phong Dien Industrial Park (Viglacera) covers a 284-ha area and posesses a synchronous and modern technical and service infrastructure system including a 110/22KV power source supplied from the national grid and a water plant with capacity of 11,000 m3/day. With the advantage of preferential corporate income tax (applied tax rate of 17% for 10 years) and the location adjacent to a quarry of large-reserve and high-quality quartz sand, Phong Dien Industrial Park (Viglacera) shows its potential to attract more investors in the future. Currently, the Industrial Park has cleared land and got ready to welcome businesses.
Proud to be the Vietnam leading industrial Park developer, Viglacera owns a list of active industrial parks including Tien Son Industrial Park (Bac Ninh), Yen Phong Industrial Park (Bac Ninh), Yen Phong 2C Industrial Park (Bac Ninh), Phu Ha Industrial Park (Phu Tho), Hai Yen Industrial Park (Quang Ninh), Dong Mai Industrial Park (Quang Ninh), Tien Hai Industrial Park (Thai Binh), Dong Van IV Industrial Park (Ha Nam), Phong Dien Industrial Park (Thua Thien Hue), Vimariel Economic Area (Cuba). These industrial parks have attracted more than 300 investors around the world, including many prestigious brands such as Samsung, Orion, Canon, Toyoda Gosei, Yazaki, Ariston, Texhong, etc. In 2020, Viglacera is expected to open other industrial parks in Yen My (Hung Yen) and Thuan Thanh (Bac Ninh).
For more information, please contact the hotline: (+84) 888 25 22 88 | Website: https//viglaceraip.com