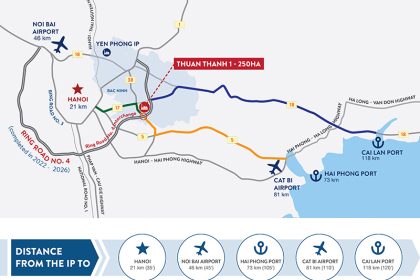 Starting in February 2022, Thuan Thanh 1 Industrial Park has a scale of nearly 250 hectares, with a total investment of nearly VND 3,000 billion. The industrial park has a favorable geographical location, near important traffic hubs such as National Highway 17 and National Highway 38, which makes it convenient to travel from the IP to Hanoi (35 minutes), Noi Bai International Airport (45 minutes), Cat Bi international airport (2 hours), Dinh Vu – Hai Phong seaport (about 1.5 hours) and Cai Lan – Quang Ninh seaport (2 hours).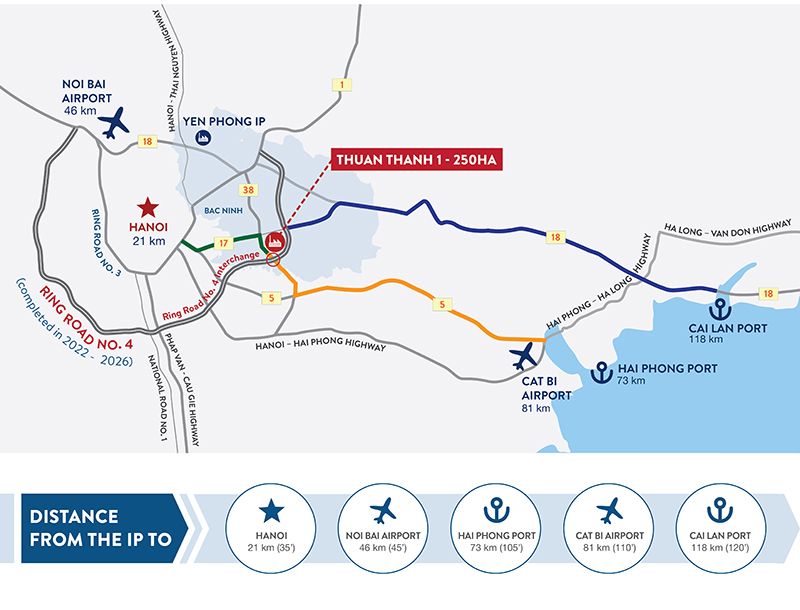 Thuan Thanh 1 Industrial Park has a prime location, being located close to Ring Road 4 and National Highways 17, 38
The IP is located close to Ring Road 4, which is expected to be basically completed in the period from 2022 to 2027. In addition, recently, Deputy Prime Minister Le Van Thanh proposed that the Ministry of Transport as well as related ministries and localities research the investment proposals to build the Bac Ninh – Pha Lai Expressway Project with a length of 10.3 km, the section from Ring Road 4 to National Highway 18 (total investment of VND 4,000 billion). Once completed, these important roads will link the major industrial chains of Bac Ninh together, especially the industrial chains in the East – South of Bac Ninh province from Thuan Thanh 1 IP as well as connecting to the industrial chains of Bac Giang province, helping increase the ability to link and trade goods between Thuan Thanh 1 IP and neighboring provinces.
Not only located at the "golden" location, Thuan Thanh 1 IP also has modernly and synchronously developed technical and service infrastructure. The IP will be a multi-functional industrial park, focusing on attracting multi-sector investment, mainly supporting industries, electronics, information technology, household goods, machinery and equipment, non-polluting and environmentally-friendly industries, aiming to become a sustainable ecological industrial park.
According to Viglacera, the operating time of the IP is long and Viglacera is ready to hand over land to secondary investors from the third quarter of 2022. Viglacera will build a housing area for experts and workers with a scale of about 30.5 hectares right next to the industrial park to support workers and enterprises to settle down and create motivation for them to become more familiar to the working environment in the industrial park.
For more information, please contact: Viglacera Real Estate Company – Phone: (+84) 888 25 22 88 | Website: https://viglaceraip.com