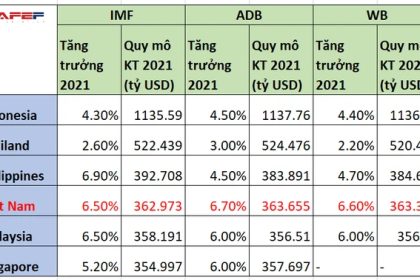 The Vietnamese economy will be the fastest growing in Southeast Asia this year at 6.7 percent driven by a manufacturing recovery and boom in trade.
The regional average will be 4.4 percent, a report released in May by the Asian Development Bank (ADB) forecast.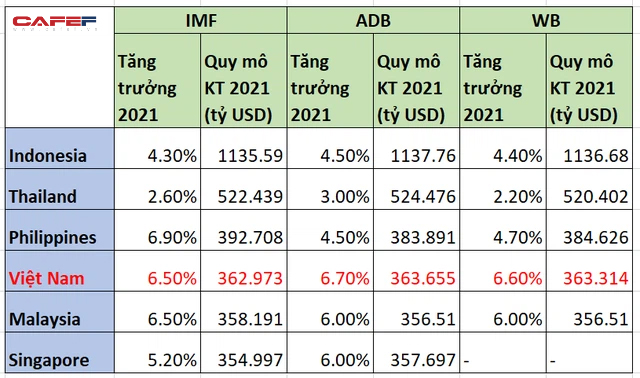 Vietnam's GDP growth is expected to top 7 percent next year, also the highest in the region, which would average 5.1 percent.
Vietnam's GDP is set to expand 6.5% in 2021, higher than the global average of 6%, and then rebound to 7.2% next year, according to the International Monetary Fund (IMF) in its latest World Economic Outlook report. Such growth would put Vietnam as the second fastest growing economy among five major economies of ASEAN (Indonesia, Thailand, Vietnam, the Philippines and Malaysia) along with Malaysia, and behind the Philippines at 6.9%, revealed the report.
"Vietnam's economic fundamentals remain robust. The country has been one of the world's best-performing economies during the pandemic; that said, we are closely watching the domestic COVID-19 situation," said Tim Leelahaphan, economist for Thailand and Vietnam, Standard Chartered, in the bank's recent Global Research report entitled "Vietnam – Strong performance continues this year".
In forecasts published in April – when the 4th wave had not yet occurred in Vietnam, Oxford Economics, IMF, World Bank, HSBC are of the opinion that Vietnam's economy would grow at 6.4%-6.6 %, this level is lower than previous forecasts at the end of 2020, Fitch Solutions only forecast at 7%.
Among international organizations, S&P Global Ratings gives the most optimistic forecast about Vietnam's economic growth this year. In October last year, S&P expected Vietnam's GDP growth to reach 11.2%. At the latest forecast on May 21 – when a new wave of COVID-19 occurred in Vietnam, this organization adjusted its forecast for Vietnam's GDP growth in 2021 to 8.5%. However, this forecast is quite high compared to other organizations.
Source: cafef.vn