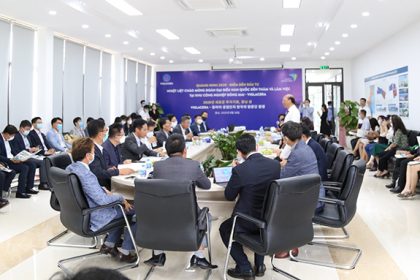 Currently, the epidemic of Covid-19 in the country is basically controlled. Accordingly, Viglacera has implemented the policy of the Party and State, it has been preventing and fighting epidemics, concurrently restoring production and business activities, promoting socio-economic development, taking advantage of new opportunities, especially catching the trend of transferring foreign investment capital into Vietnam.
Specifically, in August 2020, Viglacera collaborated with the People's Committee of Quang Ninh Province, the Ministry of Planning and Investment, the Korean Embassy in Vietnam, and Korean international organizations in Vietnam (KCCI, KOTRA ) organized a program to promote investment of Korean enterprises with the theme "Quang Ninh 2020 – Investment destination". Within the framework of the program, Mr. Jeong Woo Jin, Deputy Ambassador, Consul General of the Korean Embassy in Vietnam and Korean business leaders visited and worked in Dong Mai Industrial Park (IP).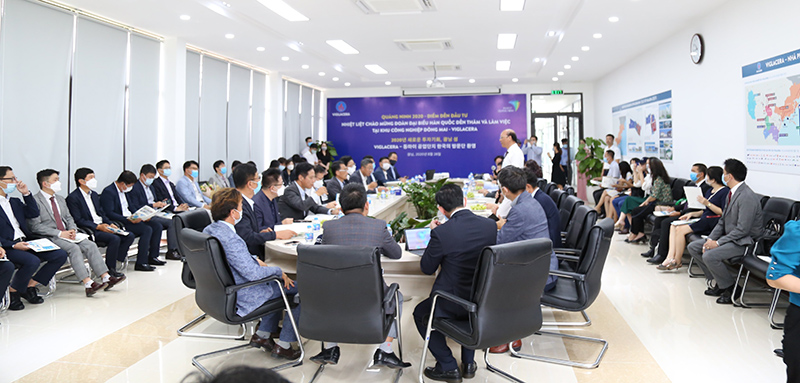 The delegation of Korean businesses visited and worked in Dong Mai Industrial Park – Viglacera
Speaking at the meeting, the representative of Quang Ninh province said that the province always identified Korea as a potential and key market to call for and promote investment attraction, especially in the fields of high and clean technology, saving natural resources and supporting sustainable socio-economic development. At the same time, the Deputy Ambassador also expressed his belief in the potential for development as well as the support for Korean investors from Quang Ninh province and reputable industrial zone infrastructure developers such as Viglacera.
Through this program, representatives of Korean businesses wishing to expand production in Vietnam exchanged and made an appointment to work with Viglacera in the shortest time to learn more about cooperation opportunities.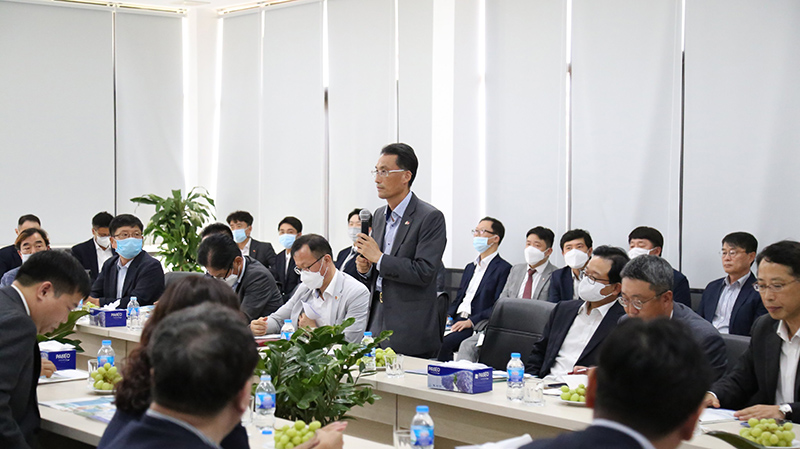 Mr. Jeong Woo Jin, Deputy Ambassador, Consul General of the Korean Embassy in Vietnam expressed his confidence in the cooperation opportunities between Vietnam – Korea.
In addition to face-to-face meetings in conditions to ensure disease safety control, Viglacera also maintains regular online communication with foreign investors who cannot directly travel to Vietnam. Thanks to this dynamism and positivity, Viglacera Industrial Parks (Ips) have successfully attracted many new businesses with a total leased land area of nearly 40 hectares recently.
Up to now, Viglacera has developed 11 industrial parks in Vietnam and 1 economic zone in Cuba, attracting nearly $15 billion of FDI capital from more than 300 domestic and foreign enterprises, creating jobs for tens of thousands of workers in the area. Thanks to the favourable advantage of its location in many provinces, Viglacera IPs offer a variety of choices for investors, meeting the particular needs of business. All industrial zones have clean land and adequate, synchronous and modern infrastructure, ready to welcome businesses to rent and build factories.