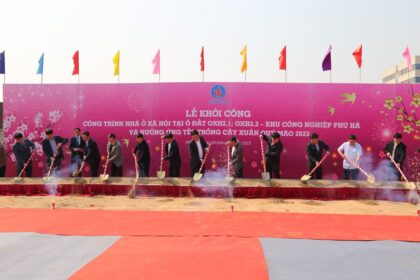 On January 30, 2023 in the atmosphere to welcome the new Spring, celebrate the 93rd anniversary of the founding of the Communist Party of Vietnam, Viglacera Corporation – JSC solemnly held the Groundbreaking Ceremony of the Social Housing project in the land lot OXH2.1 and OXH2.2 – Phu Ha Industrial Park, Phu Tho Province and responded to the Tree Planting Festival of the Year of the Rabbit 2023.
Attending the program were Mr. Nguyen Van Tuan – Chairman of the Board of Directors of Viglacera Corporation; Mr. Nguyen Anh Tuan – General Director of Viglacera Corporation; Together with the members of the Board of Directors, the Supervisory Board, the Deputy General Directors of the Corporation, leaders of the member units of the Corporation.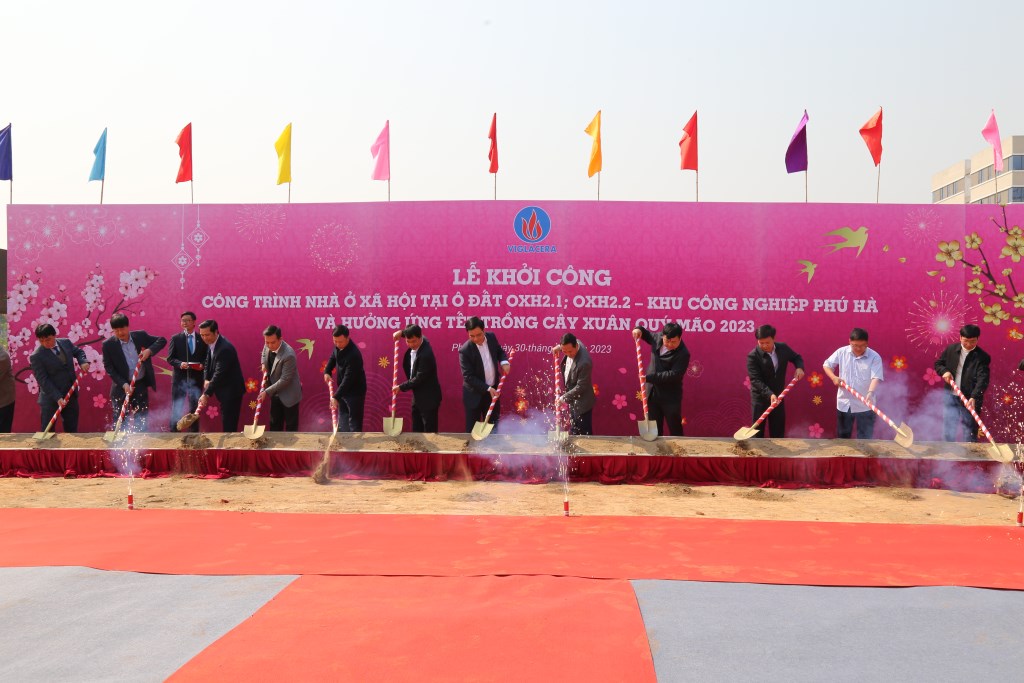 Investment project to build social housing for workers in Phu Ha Industrial Park in Ha Loc commune, Phu Tho town, Phu Tho province has been invested by Viglacera Corporation since 2019, with a total project area of 43,175 m2, population size of about 3,000 people, 558 social apartments for sale, rent and 48 low-rise apartments.
Up to now, the project has handed over and put into use 01 6-storey building in land plot OXH 1-2 from February 2022, scale of 134 apartments; 01 6-storey building in the land plot OXH 1-1, scale of 134 apartments is under construction and expected to be completed and put into use in June 2023; The systems of roads, internal walkways, landscapes, trees and technical infrastructure havebeen invested and built synchronously.
Today in the early spring atmosphere of the Lunar New Year 2023, Viglacera Corporation – JSC held the ground-breaking ceremony of social housing projectin the land plots OXH2-1, OXH2-2, with the total construction area of 3,388m2, and the scale of 290 apartments, expected to be completed and put into use in October 2023.
Along with the mutual joy of the whole country on the working day of the spring, Viglacera Corporation launched the Tree Planting Festival of the Lunar Year, responding to Uncle Ho's teaching "For the sake of ten years, trees must be planted " and the Tree Planting festival "Eternal gratitude to Uncle Ho", Spring of the Lunar Year 2023, launched by Phu Tho Province at the same time.
The New Year Tree Planting festival was also launched in the industrial parks of Viglacera such as Thuan Thanh, Yen Phong, Tien Hai in the early days of the new year. This is also a practical action of Viglacera into a green future, a good new beginning for the movement of planting trees, taking care of the landscape, and protecting the environment, contributing to building the country for comprehensive and sustainable development.