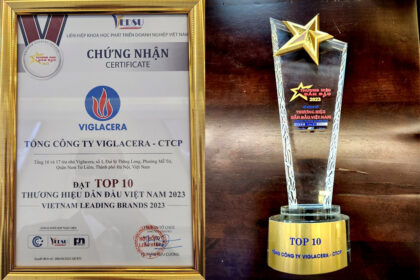 On April 15, at Ben Thanh Theater, Ho Chi Minh City, Viglacera Corporation – JSC was honored to receive the award "Top 10 leading brand in Vietnam 2023" – Vietnam Leading Brands 2023. The award is the recognition for the continuous efforts of Viglacera Corporation in recent years, contributing to affirm Viglacera's position and prestige in the field of construction materials production as well as real estate and industrial zones investment during the nearly 50-year journey of building and developing.
The 10th "Vietnam Leading Brands 2023" program is an annual activity to report, summarize and announce excellent enterprises in applying creative management processes and quality innovation to improve the internal capacity of enterprises and the ability to integrate and compete in the international economy. At the same time, it also honors the brands that have made active and effective contributions to improving the quality of products and services and are committed to better serving customers. Recognition comes from outstanding business results with the level of product improvement and the quality of customer service being continuously improved to make a difference. The program is assessed by the Asian Economic Research Institute, the Institute of Competitiveness Assessment and Survey and the Vietnam Association of Science and Business Development.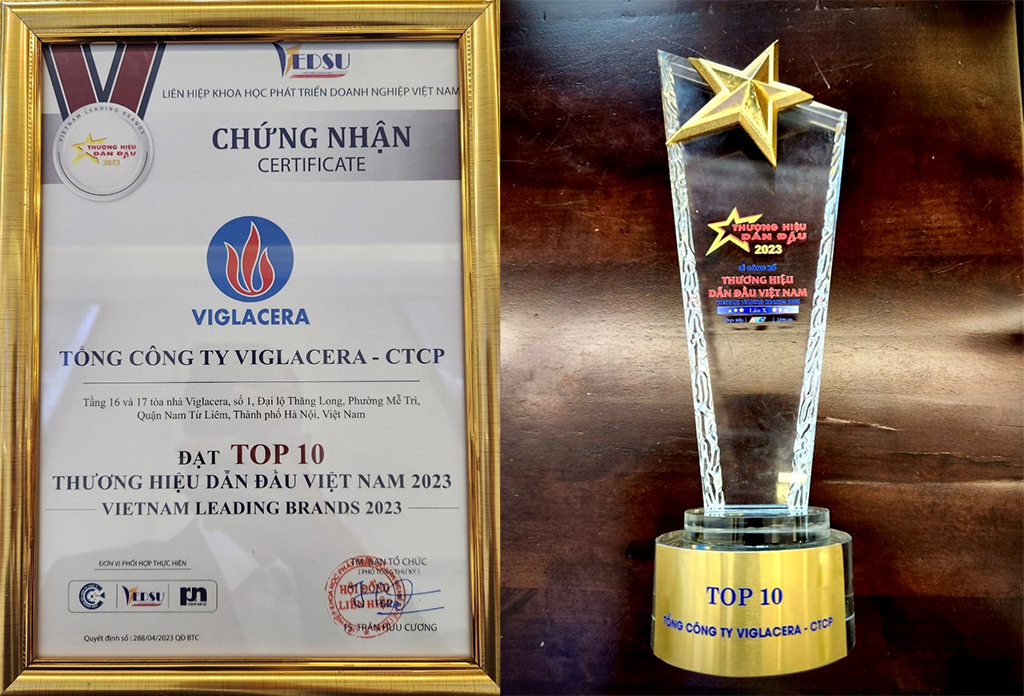 Viglacera is the first enterprise to synchronously produce and supply all kinds of modern building materials in Vietnam, accompanying Vietnamese consumers in creating modern buildings. Over 49 years of construction and development, Viglacera has always affirmed its pioneering role in the production of building materials and investment in real estate business in Vietnam, striving to transform itself according to the fluctuations of history and the market to become of the brands that Vietnamese people are most proud of.
With a medium and long-term strategy, Viglacera aims to become an economic group, developing in two key areas: building materials and real estate. In particular, the main goal is to maximize the capacity of existing and invested factories and production lines of building materials.
In the field of building materials, Viglacera always pioneers in the latest and most modern technology to bring diverse experiences to the consumers. Products of high-quality construction glass, energy-saving glass, ceramic tiles, sanitary ware, panels and aerated concrete bricks are applied "green" technology and the most advanced production technology line in the world, expected to soon become the pride of high-quality Vietnamese products of the consumers in the domestic market as well as in fastidious markets such as Japan, the US, and the EU… In particular, the Corporation continues to research, diversify products and develop investment in key product groups such as construction glass, sanitary ware – shower faucets, ceramic tiles…
Viglacera plans to continue investing in the Phase 2 super white float glass factory, which is a product used as a billet for the production of solar cells and high-grade processed glass; At the same time, urgently complete the line with advanced technology to produce large-panel tiles, high-grade sintered stone products (for interior and exterior)… at Viglacera Eurotile Brick Factory (My Duc Factory 2) in Ba Ria – Vung Tau, expanding investment in existing factories of member units such as Viglacera Hanoi Joint Stock Company, Viglacera Thang Long Joint Stock Company, My Duc Factory in Ba Ria – Vung Tau…
In the field of real estate, the Corporation focuses on developing investment, trading and operation of industrial park technical infrastructure and services in existing IPs as well as developing and expanding land banks in potential areas (Central, Southern) and abroad (Cuba).
Viglacera sets a goal by 2025 to increase the total number of industrial zones of the Corporation to more than 20 industrial zones, including more than 10 new industrial zones with a total area of about 2,000 – 3,000 hectares. In addition, the Corporation also develops and invests in social housing, worker housing in industrial zones, commercial housing and resort real estate, operates and exploits existing industrial zones and urban areas.
With the efforts and persistence of Viglacera's Board of Directors and staff during the past time, winning the title of "Top 10 Leading Brands in Vietnam in 2023" is an honor and a worthy achievement. It is also the driving force for the leaders and staff of Viglacera Corporation to build a stronger and stronger business, affirming its position as a leading enterprise in the production of building materials and investment in the real estate business in Vietnam.