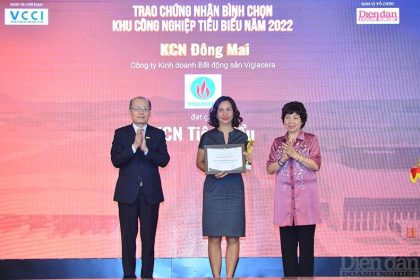 As one of the leading prestigious industrial park infrastructure investors in Vietnam, Viglacera Corporation provides the market with many large-scale industrial park projects, professionally operated according to international standards.
Viglacera is the only unit with 2 Industrial Parks (IPs) to be elected Typical Industrial Park in 2022 (Yen Phong Industrial Park and Dong Mai Industrial Park) and the title of Industrial Park with typical security infrastructure (Yen Phong Industrial Park) at the program Voting typical industrial parks in 2022 organized by Business Forum Magazine.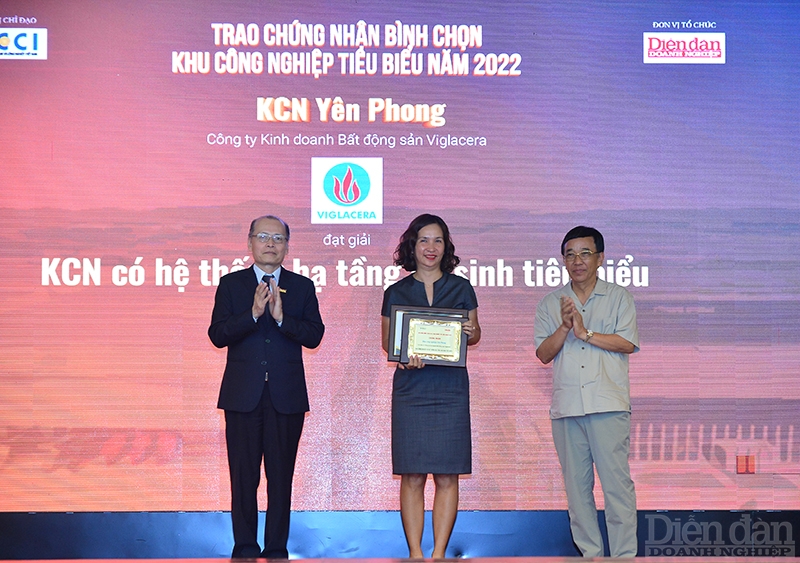 Considered a comprehensively developed industrial park, Yen Phong Industrial Park is invested in a synchronous and modern technical and social infrastructure system. Currently, Yen Phong is considered to be the largest FDI attraction in the North with more than 10 billion USD, greatly contributing to Bac Ninh for many years in the Top 10 in the country in terms of FDI attraction with more than 100 active investors. operating in industrial zones such as: Samsung, Orion, Ottogi, KCC, Deli…
With the goal of "Employees are both the subject and the center of development, investing in housing for employees is a very necessary task", investor Viglacera focuses on developing 2 Yen Phong urban area is 56 ha and worker's housing area of 20 ha is located near Yen Phong Industrial Park. This is the place to provide tens of thousands of accommodations for domestic and foreign workers, and experts working in the industrial park.
Last February, Viglacera continued to start construction of 2,000 apartments, serving about 10,000 workers and experts in Yen Phong Industrial Park, Yen Phong district, Bac Ninh province. Once completed and put into use, the project will improve the quality of life, solve the problem of accommodation for workers, indirectly support costs and create abundant human resources for existing businesses that are using a lot of labor in production in the industrial park.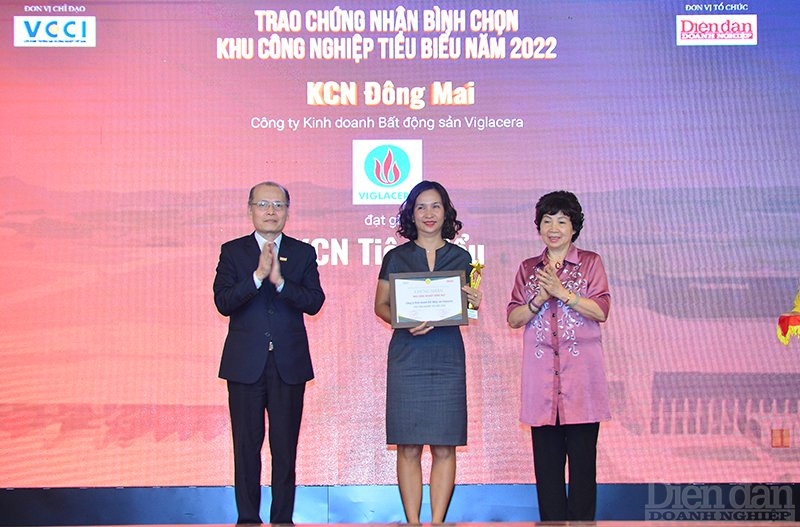 Dong Mai Industrial Park, developed by Viglacera Corporation, is the first industrial park of Quang Ninh to attract many clean and high-tech industrial projects with modern on-site production lines, creating a global product supply chain. With an area of 167.86 hectares and a total investment of over 470 million USD, Dong Mai is considered the most synchronous industrial park in terms of infrastructure, with the highest land use efficiency in Quang Ninh province (occupation rate reaches more than 70% with more than 20 secondary projects).
This industrial park is also one of the main growth drivers of the processing-manufacturing industry with many export products, making an important contribution to the province's GRDP growth, such as: the S-Vietnam project of the Foxconn Group delegation; Factory manufacturing wiring systems and electrical assemblies for cars Yazaki; Tonly Technology Limited speaker and headphone factory; Bumjin Electronics Factory…
According to Viglacera Corporation, Dong Mai is an important and dynamic industrial park infrastructure project. This company has spent a lot of investment resources, creating a new look, contributing to vibrant industrial production, processing and manufacturing activities of Quang Ninh province. Determined to develop in the direction of industrial parks, urban areas – sustainable services, so Quang Ninh has given many attractive incentives to investors, especially for clean land in the development center area of Quang Yen town to build housing for workers and service professionals in the industrial park. Last March, Viglacera started the project of housing for workers and experts with a total area of 9.1 hectares located right next to the industrial park. When the project is completed, it will meet the housing needs for experts and workers working in Dong Mai Industrial Park, contributing to ensuring social security, ensuring that the industrial park's operation is continuous and uninterrupted labor supply. Thereby, contributing to realizing the goal of building Dong Mai Industrial Park into a typical industrial zone of Quang Ninh province, developing in the direction of industrial parks, urban areas – sustainable services.