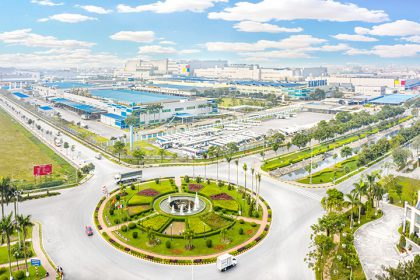 On December 18, 1998, the Prime Minister issued Decision No. 1129/QDTTg establishing and approving an investment project to develop infrastructure in Tien Son Industrial Park, Bac Ninh province, marking the engagement of Viglacera in the industrial park infrastructure development. It is also the first concentrated industrial park in the province. The success of Tien Son Industrial Park not only opened a new direction for the growth of Viglacera but also created momentum to promote the industrial sector in the area. After two decades, Viglacera has made constant efforts to help Bac Ninh become one of the most developed provinces in the country and to become a centrally-run city in the near future.
In Bac Ninh province, Viglacera is presently running four industrial parks with a total area of 1,500 ha. The group's industrial parks are easily accessible from traffic routes, and are near important traffic hubs such as National Highway 18, National Highway 1, Hanoi – Thai Nguyen expressway, Noi Bai International Airport, Hai Phong Port and Cai Lan Port (Quang Ninh province).
Technical and service infrastructure of Viglacera's industrial parks is developed synchronously and modernly.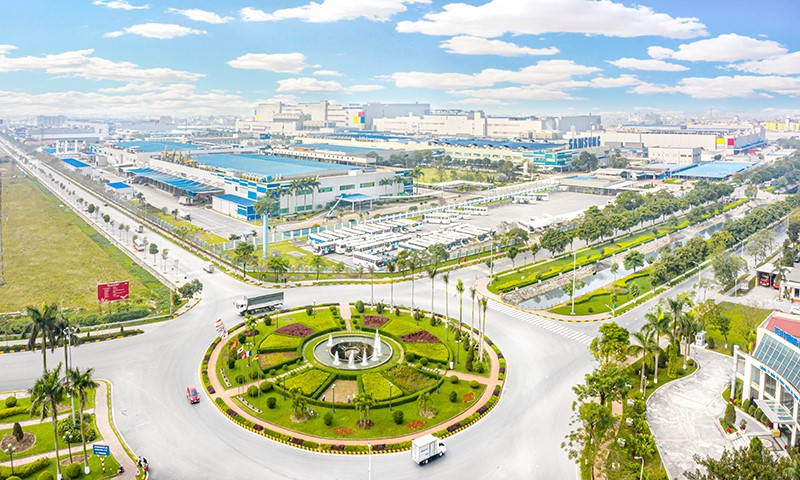 Artwork: Yen Phong Industrial Park
Tien Son Industrial Park, fully occupied by 126 tenants, is known as one of the model industrial parks in the north. This is a trusted destination for many worldleading investors such as Canon, Sumitomo, Ariston, ABB, Seojin, Vinamilk.
With convenient access to traffic routes and an abundant local labor force, Yen Phong Industrial Park, located on Highway 18, has attracted the largest amount of FDI funding in the north. So far, the park is home to nearly 150 domestic and foreign projects, including major manufacturers like Samsung, Orion, Ottogi, KCC Vietnam. 22 km from Noi Bai Airport (20-minute drive) and 35 km from Hanoi (45-minute drive), Yen Phong Industrial Park maximizes the effect of cargo flows for investors. The inside technical infrastructure is synchronous and modern, with a system of services and utilities such as hospitals, hydrants and banks. Besides, Viglacera Vocational Training College annually teaches skills to 6,000 trainees a year for enterprises. At the same time, to demonstrate corporate social responsibility, Viglacera has developed 60-ha housing areas for over 20,000 workers and thousands of experts who have access to a full range of public facilities like clinics, cultural houses, schools and green parks. The first phase of the park (344 ha) is fully leased and the second phase (314 ha) is offering a vast land fund for fresh investors to build factories.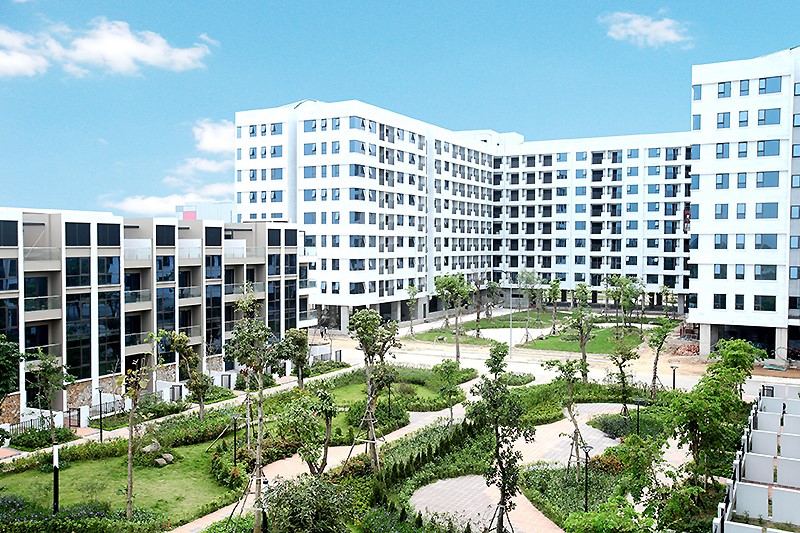 Housing for workers and experts in Yen Phong Industrial Park.
Kicked off in January 2020, Yen Phong 2C Industrial Park (221 ha), 20 km from Noi Bai Airport and 34 km from Hanoi City, has quickly drawn the attention of many investors, and inked the first contract with HyoSung TNS Inc (South Korea) and its subsidiary enterprises. HyoSung Group is one of three largest business groups of South Korea.
In the first quarter of 2021, Viglacera is expected to prepare a clean land fund in Thuan Thanh Industrial Park to welcome investors. This promises to be an attractive new choice for investors as it is conveniently located, only 46 km from Noi Bai airport, 20 km from Hanoi. Over the past years, Bac Ninh province has always been assessed by businesses and investors to have a favorable open business climate with a lot of incentives. Local authorities have actively supported investors to start their operations quickly. For its part, Viglacera is committed to supporting investors, improving investor satisfaction, developing sustainable industrial zones, and actively carrying out social responsibility and environmental actions.
With more than 20 years of experience, Viglacera was one of the first developers of large-scale industrial zones in Vietnam. The group is now running 11 industrial parks, including 10 in Vietnam and one in Cuba, covering a total area of more than 4,000 ha and housing more than 300 investors around the world. Tenants include well-reputed global brands like Samsung, Orion, Canon, Foxconn, Hyosung, Qisda and Toyoda Gosei. The places where Viglacera sets foot always become reliable destinations for investors and importantly contribute to local socioeconomic development.
For more information, please contact:
Viglacera Real Estate Company
2nd Floor, Viglacera Tower, No. 1 Thang Long Boulevard, Me Tri, Nam Tu Liem, Hanoi, Vietnam.
E-mail: vir@viglaceraland.vn
Website: https://viglaceraip.com
Hotline: +84 888 25 22 88