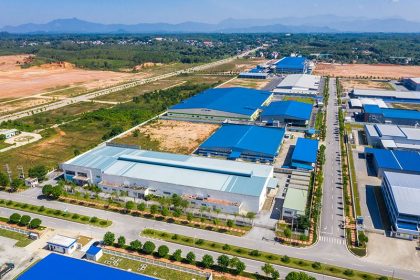 According to economic experts, although the Covid-19 epidemic is causing certain difficulties, Vietnam is still a potential destination in the long term thanks to the positive outlook of the economy and the wave of manufacture transition away from China. Facing this trend, Viglacera's industrial parks (IPs) continue to maintain their attraction to many investors in the first quarter of 2020.
From the fourth quarter of 2019, Viglacera has continuously welcomed many leading enterprises from China, Taiwan, Hong Kong, South Korea, Japan and Europe to survey IPs, estimating the total leased land area over the past time up to over 60 hectares with total investment of hundreds of million dollars.
Specifically, Phu Ha Industrial Park (Phu Tho province) has successfully attracted 4 FDI from Hong Kong, Taiwan, South Korea producing children's toys, automobile lights, camera components for mobile phones and manufacturing helmets and its accessories.
At Dong Van 4 Industrial Park (Ha Nam), the world's leading synthetic diamond manufacturer and processor ILJIN Diamond (South Korea), after a thorough research, has decided to invest in building the first factory in Vietnam. At the same time, the park welcomed another Korean company, specializing in the production of automotive dashcams, and a number of other domestic investors.
As noted, in the first 3 months of 2020, Dong Mai Industrial Park has welcomed 7 more foreign enterprises which decided to rent a land area of nearly 25ha to manufacture electric bicycles, electromechanical tools, mechanical parts, assembling and accessories.
Besides, even though Yen Phong 2C Industrial Park (Bac Ninh) was just started in January 2020, it immediately received the attention from many investors, quickly reached an agreement and signed initial contracts with HyoSung TNS Inc (a member of HyoSung Corporation) along with other supporting businesses.
HyoSung Corporation is known as one of the global scales, multi-disciplinary corporations and also one of the three largest economic groups in South Korea with 114 factories, centers and sales offices in 29 countries and territories around the world.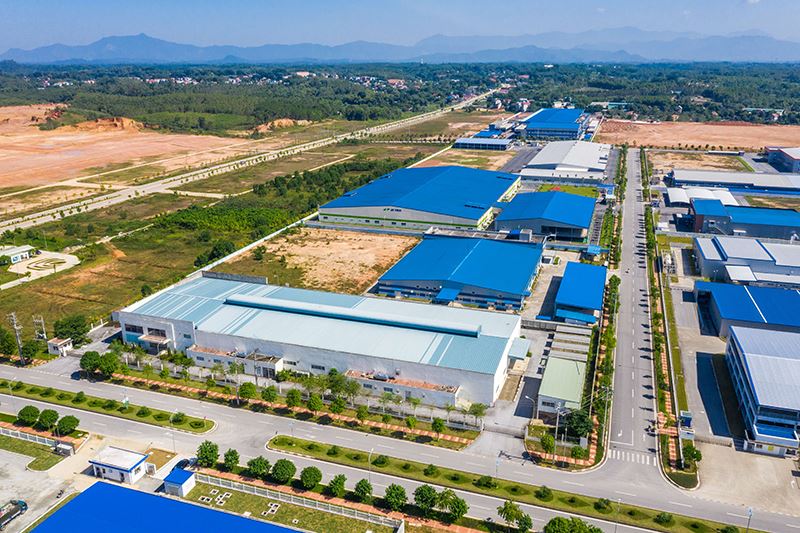 Viglacera's IPs constantly attract the attention of domestic and foreign investors
That the Covid-19 outbreak started in February 2020 makes impossible for investors, especially foreign investors to come to Vietnam, however they still stay in touch with Viglacera via online contacts to ensure the progress of implementation of the investment and business plan in 2020, many of investors have already booked for a site visit after the disease is controlled.
This is a positive signal for the recovery and development of the industrial park's real estate market in general and Viglacera's investment attraction in particular. At the same time, in order to prepare for the recovery after the disease, Viglacera has been mobilizing resources to clear the site and complete infrastructure for the next land lots.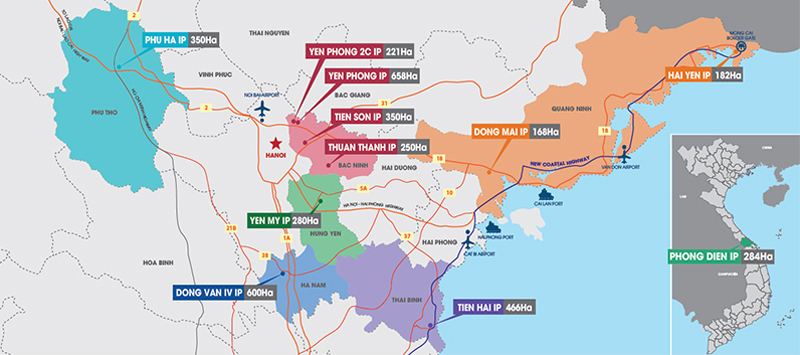 Map of Viglacera's industrial parks in Vietnam
(Phu Tho, Bac Ninh, Hung Yen, Ha Nam, Thai Binh, Quang Ninh, Thua Thien Hue)
Up to now, Viglacera has developed 11 industrial parks in Vietnam and 1 economic zone in Cuba, attracting nearly 15 billion USD of FDI capital from more than 300 domestic and foreign enterprises, creating jobs for tens of thousands of workers in the area. Thanks to the favourable locations in many provinces, Viglacera's Industrial Parks offer a diverse land selection to investors to meet their business needs. All industrial parks have clean land with adequate, synchronous and modern infrastructure, and are all ready to welcome businesses to lease and build factories.
Proud to be the leading industrial park developer in Vietnam with over 20 years of experience, Viglacera is now owning many active industrial parks, such as: Tien Son Industrial Park (Bac Ninh), Yen Phong Industrial Park (Bac Ninh), Yen Industrial Park Phong 2C (Bac Ninh), Phu Ha Industrial Park (Phu Tho), Hai Yen Industrial Park (Quang Ninh), Dong Mai Industrial Park (Quang Ninh), Tien Hai Industrial Park (Thai Binh), Dong Van IV (Ha Nam), Phong Dien (Thua Thien Hue), Yen My Industrial Park (Hung Yen), ViMariel Economic Zone (Cuba). It is expected to start Thuan Thanh Industrial Park (Bac Ninh) in 2021.
For further information, please contact the hotline: (+84) 888 25 22 88 | Website: https://viglaceraip.com

More images of Viglacera's IPs: