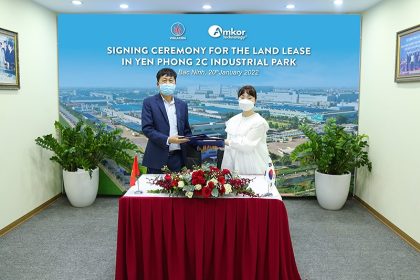 On January 20, 2022, Amkor Technology Group, INC (Korea), the world's leading semiconductor material producer, officially successfully signed a land lease contract with a total investment of 1.6 billion USD in Yen Phong 2C Industrial Park (Bac Ninh Province) invested and developed by Viglacera Corporation – JSC.
On an area of 230,000 m2, Amkor Technology, INC will manufacture, assemble and test semiconductor materials, providing strategic partners with leading electronics companies such as Qualcomm, Samsung, NVIDIA, Foxconn, Broadcom, LG, SK Hynix. The project is expected to start construction in the first quarter of 2022 and put in operation at the end of 2023.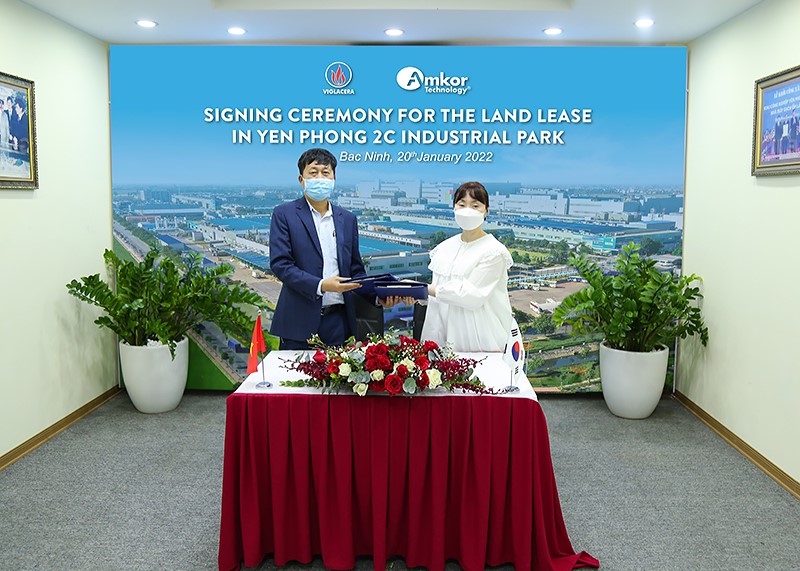 Mr. Tran Ngoc Anh – Director of Viglacera Real Estate Company awarded the Land leasing Contract to the Representative of Amkor Technology Group, INC.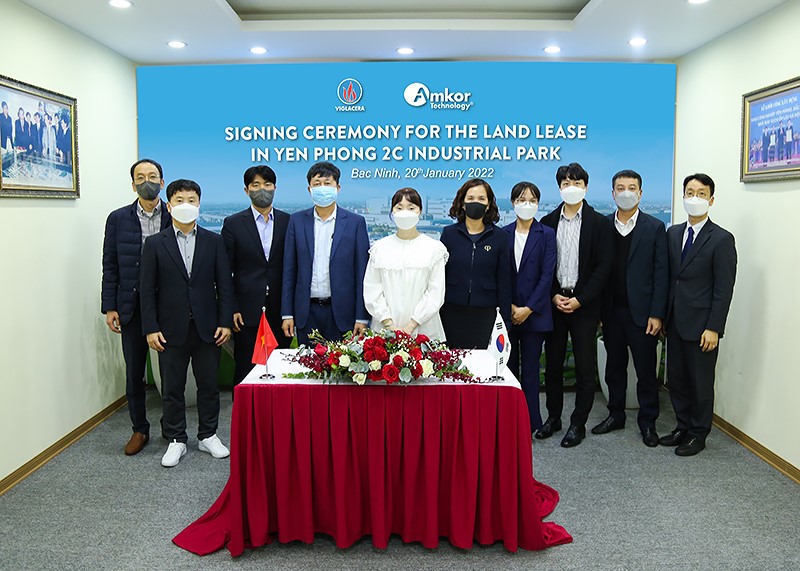 Amkor Technology Group, INC took photos with representatives of Viglacera Corporation – JSC
The factory in Yen Phong 2C Industrial Park is the smartest, most modern factory in the group's global assembly and testing system, focusing on bringing advanced assembly and system testing solutions in a package (Advanced System in Packages -SiP). The project is also the premise to bring the industrial park in particular and Bac Ninh province in general to appear on the world map for semiconductor manufacturing, attracting more large investors. Right from the beginning of 2022, auxiliary businesses of Amkor Technology Group, INC have started working with Viglacera to survey and research land lease in the nearest time.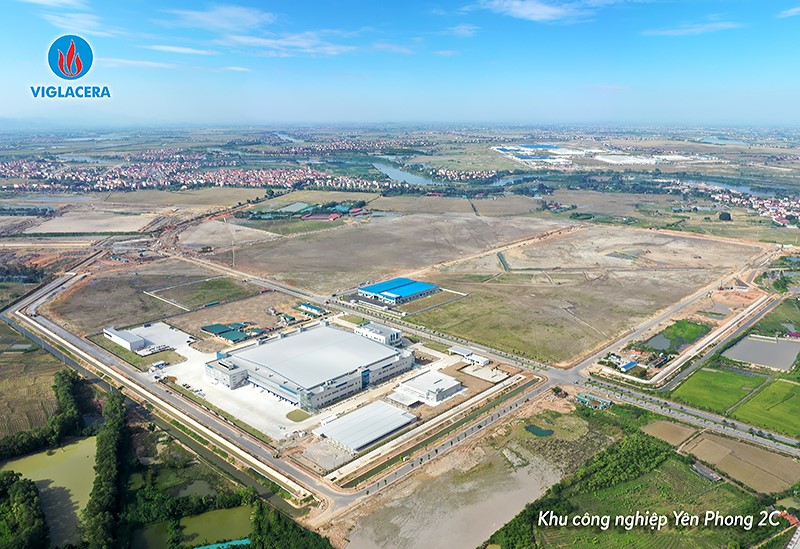 Yen Phong 2C Industrial Park owns a prime location, outstanding infrastructure and clean land, it is ready to welcome enterprises to survey for factory construction.
Knowing that developing worker's housing is Viglacera's strength, Amkor Group has expressed interest and discussed with the investor the construction of a dedicated housing area for 6,000 employees in the future.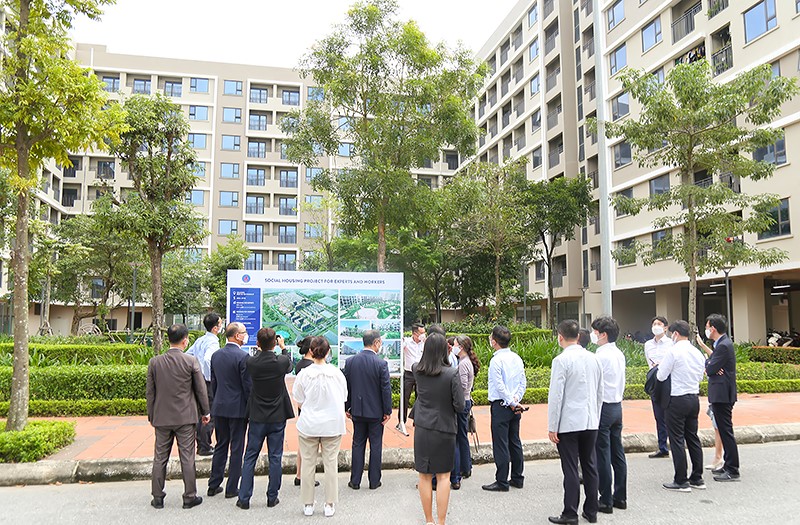 The working delegation directly visited the housing project for workers in Yen Phong Industrial Park.
During the period of the Covid-19 epidemic from the beginning of 2020, Viglacera has remained a reliable destination for more than 40 domestic and foreign investors, successfully attracting large manufacturing and technology corporations, multinational corporations such as Wiselead Company, Foxconn (Taiwan), BYD (China), Hyosung, Amkor (Korea), etc. with investment capital up to billions of USD and total leased area of more than 220 hectares. This is a testament to the determination and prestige of Viglacera Corporation – JSC to investors.
(*) Visiting Yen Phong 2C Industrial Park through 360 virtual reality tour: www.yenphong360.viglaceraip.com
Viglacera has been developing 11 industrial zones in Vietnam and one economic zone in Cuba, attracting nearly 15 billion USD of FDI from more than 300 domestic and foreign enterprises, creating jobs for tens of thousands of workers in the local area. Thanks to the advantage of location in many provinces, Viglacera's Industrial zones bring diverse choices for investors, meeting the needs of each business. Industrial zones all have clean land and complete, synchronous, and modern infrastructure, getting ready to welcome businesses to rent and build factories.
For more information, please contact: Viglacera Real Estate Company – Phone: (+84) 888 25 22 88 | Website: https://viglaceraip.com