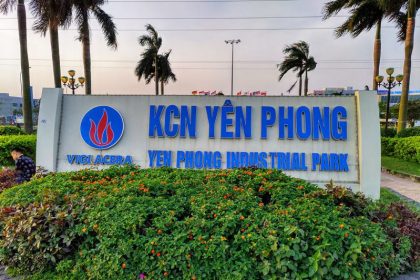 Yen Phong Industrial Park, Bac Ninh province is located at a convenient intersection point and possessing an abundant local labor resource, it is suitable for the production and services development of domestic and foreign businesses.
Geographical advantage
Air Logistic Joint Stock Company (ALS) – the pioneering company in providing logistics services has identified Yen Phong Industrial Park as transshipment hub among the most active logistics areas in the north: Hai Phong Port, Quang Ninh Port; Lang Son and Lao Cai border gates; Noi Bai international airport; industrial park clusters in Bac Giang, Bac Ninh, Vinh Phuc, Phu Tho, Hanoi…
Moreover, arterial routes such as 18A, 1A, 5A, 5B Highway; Bac Giang and Thai Nguyen expressway are mostly across or easily accessible to the industrial park. In fact, it takes only 20 minutes and 40 minutes to transport goods from Yen Phong to Noi Bai and Hanoi inner area respectively.
Market advantage
Samsung electronics, the world's largest mobile phone manufacturer has chosen Yen Phong Industrial Park as its operating destination in Vietnam. Next, other company in Samsung's global system has also followed the investment including Samsung Displays, Samsung SDI. As an inevitable condition, the supporting businesses have already set up factories inside Yen Phong Industrial Park or nearby locations.
Beside electronics industry, a number of other industries have gathered at Yen Phong Industrial Park, namely some reputable brands such as: Orion Vina (foodstuff); Lock & Lock (customer goods); Pharmacy (health).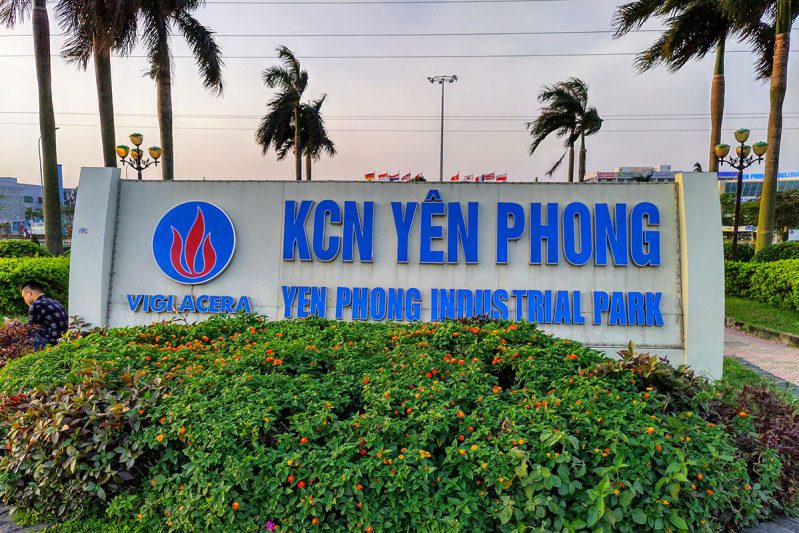 Yen Phong Industrial Park successfully attracted many reputable domestic and foreign brands.
Human resource advantage
Along with the economic development preference policy, Bac Ninh has committed to provide the most favorable conditions in investment activities for businesses. Besides encouraging the local young labor force to participate in professional training courses, Bac Ninh also welcomes skilled employees from other provinces. It is the young and high qualified labor force that becomes the foundation for Yen Phong industrial park's investors' trust and decision.
Service – technical infrastructure advantage
Developed by Viglacera JSC – a reputable 20 years' experience investor in industrial park sector, Yen Phong Industrial Park is comprised of 2 phases: phase 1 (344 ha) was 100% completed; and expansion phase (314ha). Currently, the industrial park has a completely synchronized modern infrastructure: 110/22KV electric source provided by national grid with the capacity of 9x63MVA (along with backup power station preventing power cut in the industrial park affecting production), nitrogen gas supply station, water supply station with a capacity of 36.000m3/day (phase 1), 22.000m3/day (phase 2), waste water treatment plant with a capacity of 28.000m3/day (phase 1), 12.000m3/day (phase 2). Moreover, the investors of the industrial park will be supported with banking services, hospital, post office and especially Quang Ninh Province' custom headquarter is based within the industrial park which is convenient for the goods import process of the businesses. Viglacera concerns not only rapid development but also sustainable development and social security when deciding on investment and construction of Yen Phong urban area, including semi-detached houses, apartments, and houses for workers to live near the industrial park.
With the aforementioned advantages, Yen Phong Industrial Park has increasingly proved its attraction to investors. Until now, the industrial park has available clean land for lease to welcome investors to survey and build factories.
For further information, please contact: Viglacera Real Estate Trading Company – Phone number: (+84) 888 25 22 88 | Website: https://viglaceraip.com