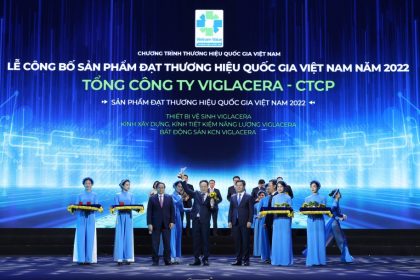 On November 2, 2022, in Hanoi, Prime Minister Pham Minh Chinh attended the Announcement Ceremony of the products that attained Vietnam National Brand in 2022 with the theme "Creating the Future". With the title of "National Brand in 2022", Viglacera Corporation – JSC continued to affirm its pioneering and leading position in the construction materials and real estate industry with sanitary ware products, construction glass, and energy-saving glass and industrial real estate.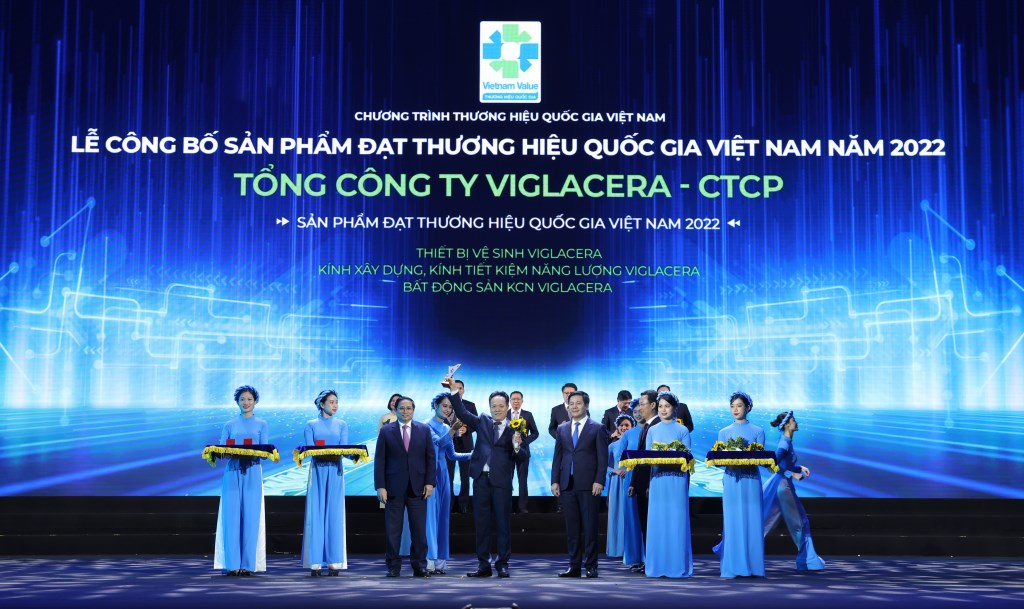 Mr. Hoang Kim Bong – Deputy General Director of Viglacera Corporation, on behalf of Viglacera Corporation – JSC, was honored to receive this award
Each brand needs to have a certain advantage to compete in the market. With Viglacera, to be able to build a solid brand and receive recognition from the social community, since its establishment, Viglacera has always determined sustainable development goals and committed to product quality, combined with the "green" criteria oriented by the Government in the new period. All the construction materials products, including sanitary ware, construction glass, energy-saving glass and ceramic tiles… of Viglacera are always researched and developed on the basis of integrated features: environment-friendly, energy saving and consumer health protective. This is also the strength of Viglacera that not many other enterprises have.
Not stopping with the existing successes, Viglacera aspires to elevate the position of Vietnamese brands in the domestic as well as international markets with the determination to innovate, pioneer breakthroughs through promotional activities, building a prestigious brand in the world through continuous cooperation with equipment suppliers, leading technology firms in the world of research, consulting and providing high-tech equipment in construction materials manufacturing. For example, Von Ardenne GmBh Group (Germany) – Energy saving glass, HESS AAC SYSTEMS (Germany) – Aerated concrete bricks,… to build, operate and use production lines…
In addition to focusing on the "green" scientific and technological revolution in the building materials industry by investing, producing and improving the quality of environmentally friendly building materials, for markets, Viglacera chooses key markets and invests selectively, focusing on potential target markets such as Korea, Japan, America, Europe…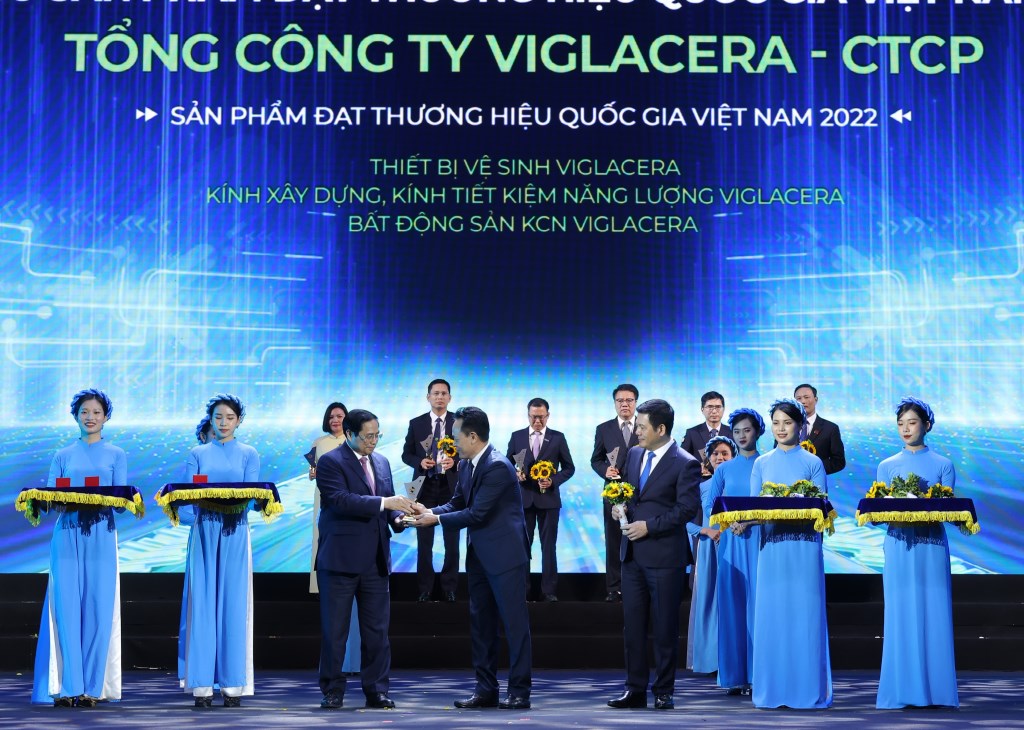 Currently, Viglacera's products are being supplied and consumed in more than 40 countries and territories around the world, trusted and appreciated by customers for their designs and product quality.
Viglacera's outstanding highlight is still the industrial parks with 11 industrial parks and 1 economic zone with a total area of 4,210 ha, which has attracted more than 300 domestic and international enterprises.
With the advantage of being located in many provinces, Viglacera's IPs bring diverse choices for investors to meet the demands of each enterprise. In 2022, Viglacera will continue to develop new IPs, infrastructures and services; wastewater treatment, waste treatment, clean water supply; electricity supply services, warehouse rental…, to meet the standards and increase the competitiveness with domestic and foreign industrial park developers.
According to the orientation, by 2025, the Corporation will increase the total number of industrial parks of Viglacera to 20 with over 10 new IPs with a total increasing area of about 2,000 – 3,000 hectares to develop the industrial park land fund.
At the same time, Viglacera will reserve at least twice as much land for annual lease and continue to improve operating standards and quality, ensuring competitiveness with domestic industrial park developers.
In addition, in the coming time, Viglacera will continue to focus on promoting business activities, raising awareness and brand value of Viglacera, especially in the southern market; For the real estate segment, focus on developing social housing projects, speeding up the progress of site clearance and developing new industrial park projects…; strive to complete comprehensively the targets of the plan in 2022; develop and organize the implementation of the tasks of the 2023 plan, ensuring stable and sustainable growth.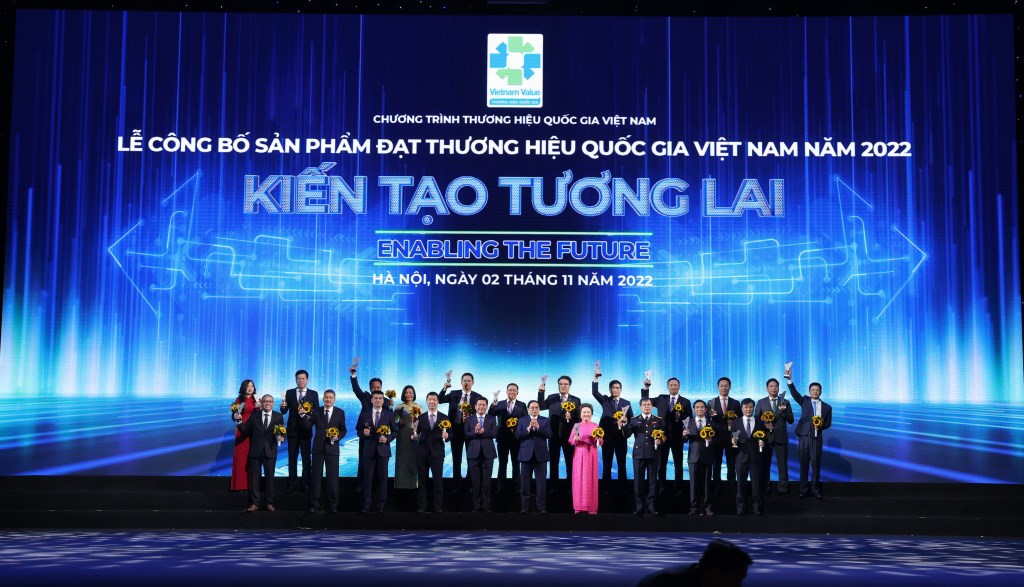 The National Brand Award is the only trade promotion program at the Government level, aimed at developing strong brands of Vietnamese enterprises. This is a prestigious award, recognized by the Government, the business community, and consumers with the values of "Quality – Innovation, Creativity – Pioneering capacity".
With the organization of voting once every 2 years, 2022 is the 8th year the National Brand Award is held. Out of more than 1,000 applications, only 172 businesses were eligible for this prestigious award. This is also the 6th consecutive year that Viglacera has been named with the title of "National Brand". This achievement continues to affirm Viglacera's solid position as well as create momentum to become a strong economic group in both the fields of building materials and real estate in the period of 2021 – 2025 of Viglacera – strong National Brand which reaches International Brand.