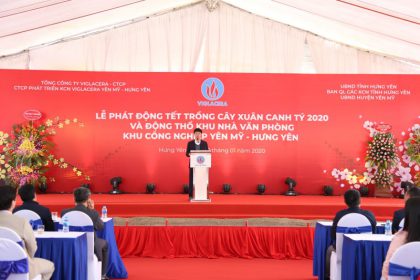 Viglacera launched the tree planting Movement for New Year of 2020 and ground breaking for office building in Yen My Industrial Park – Hung Yen
On January 31, 2020, the 7th day of Canh Ty Year, in the atmosphere of early spring and full of vitality, Viglacera Corporation holds an movement: "Tree planting for new year of 2020 and ground breaking for office building in Yen My Industrial Park – Hung Yen " in Yen My Industrial Park, Yen My district, Hung Yen province.
During his lifetime, President Ho Chi Minh taught: "For a sake of ten years, a tree must be planted, for a sake of hundred years, a man must be educated". Inspired by his philosophy, the leaders and all employees of Viglacera Corporation are always aware that planting trees and protecting the environment are important jobs which go closely with the comprehensive development process of the Corporation, contributing to the sustainable development of the industrialization and modernization of the country.
Yen My Industrial Park Project – the project was approved by the Prime Minister on May 30, 2018 with an area of 280 hectares and total investment of VND 2,348 billion, it is divided into 5 phases, granted with the investement certificate by the Management Board of Hung Yen Industrial Parks on July 30, 2018 and scheduled to complete the investment in technical infrastructure in the second quarter of 2023. The project is of great significance for local socio-economic development and expected to contribute to the industrialization and modernization of the country with the spirit of solidarity and strong will. This will be a modern, synchronized and environmentally friendly Industrial Park, in which the system of trees and grass will be a highlight to create a green and environmentally friendly landscape.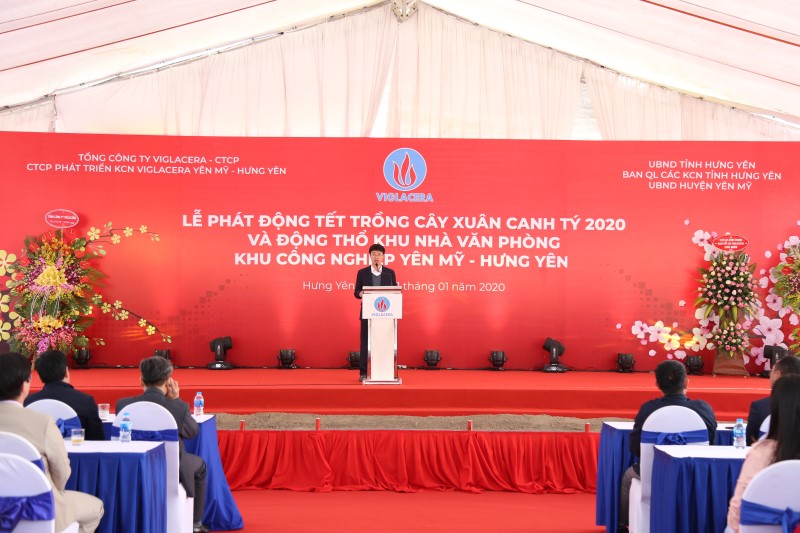 Mr. Nguyen Anh Tuan – Director of Viglacera's Industrial Zone Development Joint Stock Company makes a speech to introduce the project in Yen My – Hung Yen
Currently, Viglacera is actively implementing Phase 1 to level about 90ha of land and constructing technical infrastructure along with the set schedule and quality assurance, on the other hand, it is also accomplishing procedures to build a clean water plant and waste water treatment plant by 2020.